Hyundai Tucson: When not using the CVVD fixture
(3) Remove the CVVD assembly.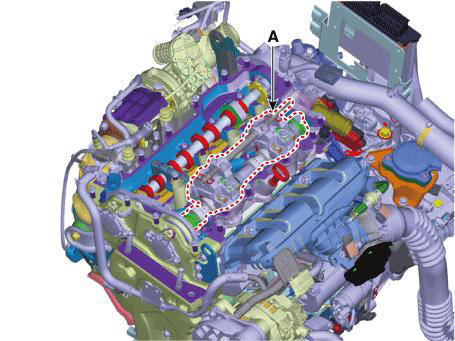 Remove the Intake CVVT (A).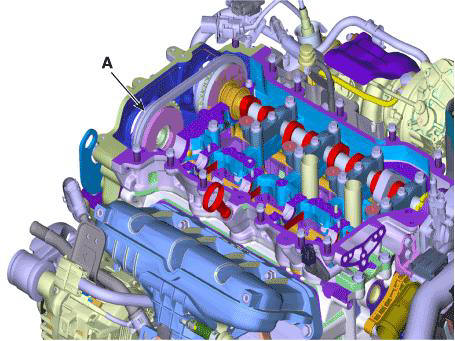 Installation
Install the Intake CVVT (A).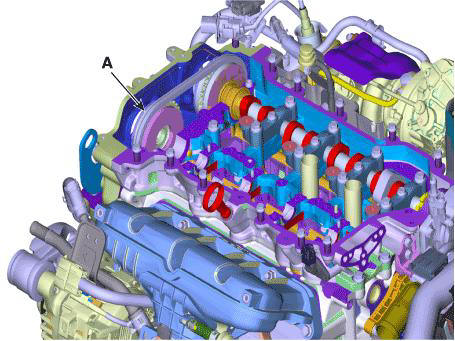 Install the CVVD assembly (A).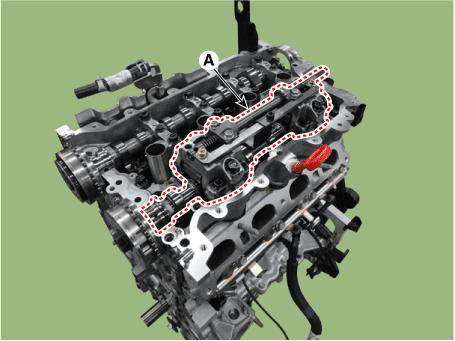 WARNING
After installing the CVVD, check whether the swing arm is separated or is installed correctly.
When installing the intake camshaft, spray the engine oil to the camshaft journal installing part (A) of the cam carrier.

The amount of application should be enough to flow down both the front and back sides when it is applied to the center.

For installation, the timing mark (A) of the intake CVVT and the timing chain mark (B) should be matched.
WARNING
During the installation, there should be no artifical rotation or movement of the guide bracket and control shaft.
When removing the CVVD fixing jig, be sure to securely tighten the M6 bolts.
If CVVD fixing jig is available, be sure to work by using it.
READ NEXT:
When installing the CVVD assembly mounting bolts (M6), tighten sequence shown. Tightening torque : 1ST 4.9 - 6.9 N.m (0.5 - 0.7 kgf.m, 3.6 - 5.1 lb-ft) 2nd 9.8 - 11.8 N.m (1.0 - 1.2 kgf.m, 7.2 - 8.7 lb-ft) Remove the CVVD fixture
Intake CVVT Timing Mark Exhaust CVVT Timing Mark Install the cam to cam guide (A). Tightening torque : 9.8 - 11.8 N.m (1.0 - 1.2 kgf.m, 7.2 - 8.7 lb-ft) Install the intake variable force solenoid (VFS) valve (A). Tightenin
Inspect for flatness. Using a precision straight edge and feeler gauge, measure the contacting surface of the cylinder block and the manifolds for warpage Flatness of cylinder head gasket surface: Less than 0.05 mm (0.0020 in.) fo
SEE MORE:
Your vehicle is equipped with an Occupant Classification System (OCS) in the front passenger's seat. Main components of the Occupant Classification System A detection device located within the front passenger seat cushion. Electronic
Components and Components Location Clutch pedal arm Clutch pedal assembly Reservoir hose Regulator Cluch tube Clutch hose Removal Remove the air cleaner assembly and air duct. (Refer to In case by Gasoline 1.6 T-GDI System