Hyundai Tucson: Water Inlet Fitting
Remove the engine room under cover.

(Refer to Engine and Transaxle Assembly - "Engine Room Under Cover")

Drain the coolant.

(Refer to Cooling System - "Coolant")

Disconnect the radiator lower hose (A).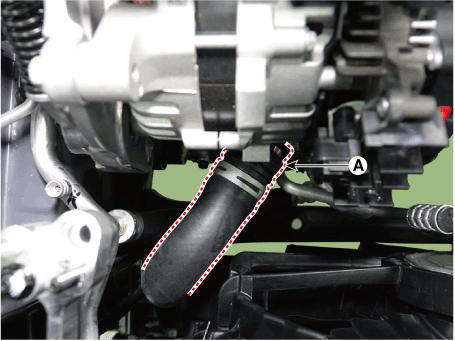 Disconnect the oil cooler hose (A).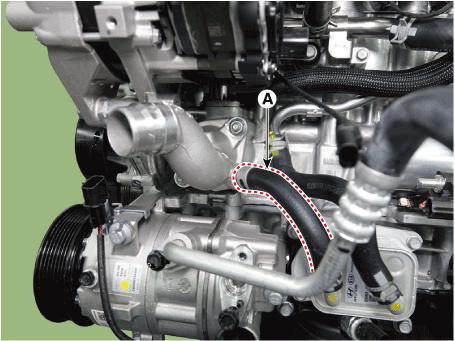 Remove the water inlet fitting (A).
Tightening torque : 18.6 - 23.5 N.m (1.9 - 2.4 kgf.m, 13.7 - 17.4 lb-ft)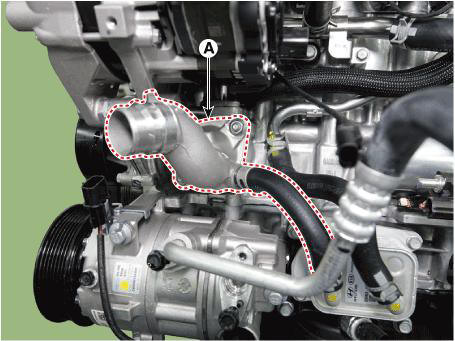 Install in the reverse order of removal.
WARNING
Always use a new O-ring.
When assembling the hose, Use a product with EPDM rubber stability.
If a hose lubricant is applied, fill the coolant after 30 minutes of assembly.
Place the hose at the specified location of the stopper and assemble them together. The front side of stoppers should be in close contact with the hose. And then, place the clamp at the correct location.
Fill with engine coolant.
(Refer to Cooling System - "Coolant")
WARNING
The coolant must be injected according to the integrated thermal management module (ITM) coolant filling method.
Start engine and check for leaks.
Components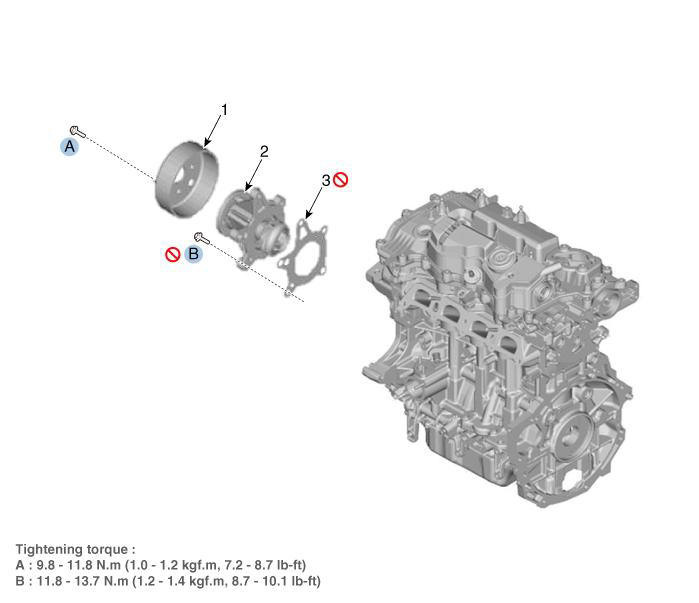 Water pump pulley
Water pump
Water pump gasket
READ NEXT:
Trouble Symptom Coolant leakage From the bleed hole of the water pump From gaskets or bolts From outer surface of water pump Probable Cause Visually check Check leaks after about ten-minute warming up. If co
Remove the front bumper. (Refer to Body (Interior and Exterior) - "Front Bumper Cover") Disconnect the active air flap connector (A). RH LH Remove the active air flap (A) after loosening the mounting screws. RH
Remove the front bumper. (Refer to Body (Interior and Exterior) - "Front Bumper Cover") Disconnect the active air flap connector (A). RH LH Remove the active air flap actuator (A) after loosening the mounting screw
SEE MORE:
Components and Components Location Control shaft complete Description -Component location : Control shaft complete is mounted on the top of the manual transaxle, and select & shift cable are equipped. Function : Change the g
Before driving your vehicle, check to see that your inside rearview mirror is properly positioned. Adjust the rearview mirror so that the view through the rear window is properly centered. WARNING Make sure your line of sight is not obstructed