Hyundai Tucson: Steering wheel - Removal
Components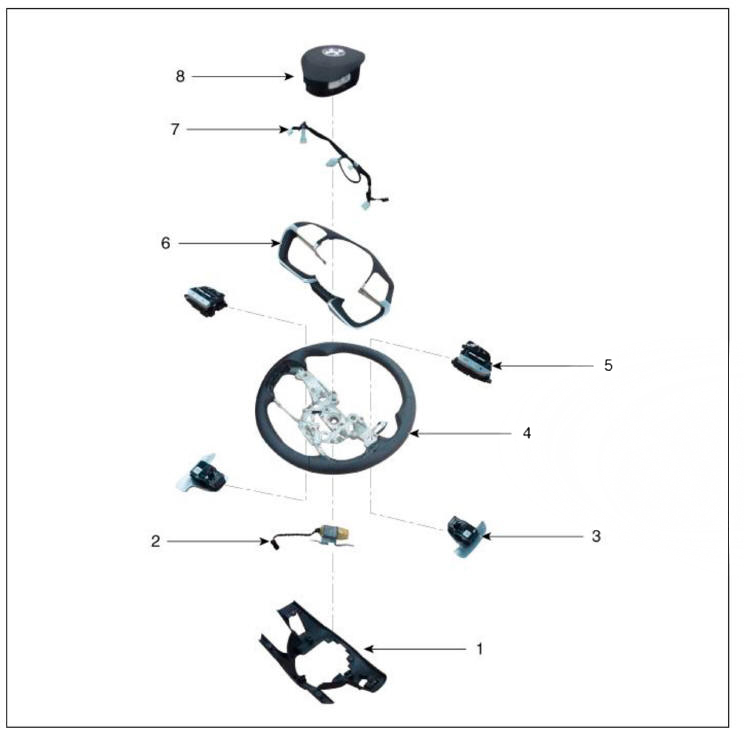 Lower cover
Haptic motorr
Paddle shift
Steering Wheel
Remote control switch
Switch bezel
Wiring
Drive airbas module (DAB)
Removal
Turn the steering wheel so that the front wheels can face straight ahead.
Turn the ignition switch OFF and disconnect the batteiy negative (-) cable.
Remove the drive airbag module.
(Refer to Restraint - "Driver Airbag (DAB) Module and Clock Spring")
Disconnect the steering wheel connector (A).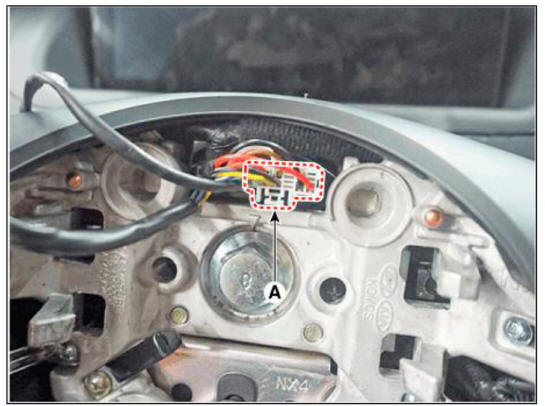 Remove the steering wheel after loosening the bolt (A).
Tightening torque : 44.1 - 49.0 N.m (4.5 - 5.0 kgf.m, 32.5 - 36.2 lb-ft)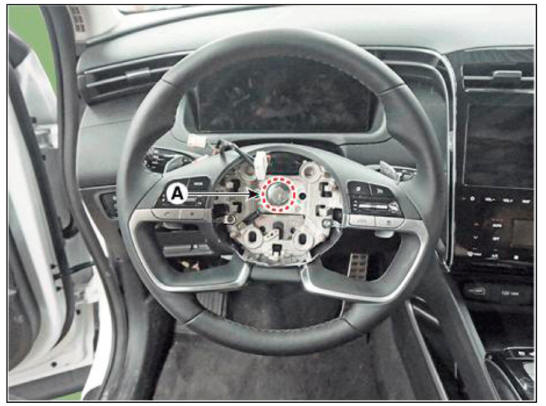 WARNING
Do not reuse the steering lock bolt.
When assembling, match the gear teeth as the below illustration.
READ NEXT:
Disassembly Loosen the paddle shift switch mounting screw (A). Remove the paddle shift switch (A) after disconnecting the connector. Remove the lower cover (A) after loosening the screw. Disconnect the wiring
Reassembly To reassembly, reverse the disassembly procedure. Installation To install, reverse the removal procedures. Description Heated pads to grip the steering grip makes the fever. Heated pad Specifications System Circ
Turn the ignition switch OFF and disconnect the battery negative (-) cable. Remove the glove box. (Refer to Body - "Glove Box") Remove the heater control unit. (Refer to Heating,Ventilation And Air Conditioning - "Hea
SEE MORE:
IMT system actuator Gear position sensor Gear position sensor select lever - signal code table Speed sensor IMT system actuator fluid Tightening Torques Lubricants Sealant Special Service Tools Tool (Numb
Description The Engine Coolant Temperature Sensor (ECTS) is located in the cylinder block and cylinder head, and measures the temperature of the engine coolant. The thermistor of the cooling water temperature and resistance has a negative temp