Hyundai Tucson: Brake fluid
Checking the brake fluid level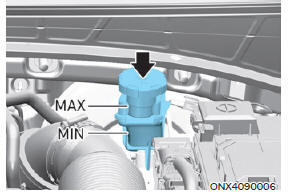 Check the fluid level in the reservoir periodically. The fluid level should be between MAX and MIN marks on the side of the reservoir.
Before removing the reservoir cap and adding brake fluid, clean the area around the reservoir cap thoroughly to prevent brake fluid contamination.
If the level is low, add the specified brake fluid to the MAX level. The level will fall with accumulated mileage. This is a normal condition associated with the wear of the brake linings. If the fluid level is excessively low, we recommend that the brake system be checked by an authorized HYUNDAI dealer.
WARNING
If the brake system requires frequent additions of fluid this could indicate a leak in the brake system. We recommend that the vehicle be inspected by an authorized HYUNDAI dealer.
WARNING
Do not allow brake fluid to come in contact with your eyes. If brake fluid comes in contact with your eyes, flush your eyes with clean water for at least 15 minutes and get immediate medical attention.
NOTICE
Do not allow brake fluid to contact the vehicle's body paint, as paint damage will result.
Brake fluid, which has been exposed to open air for an extended time should NEVER be used as its quality cannot be guaranteed. It should be disposed of properly.
Do not use the wrong kind of brake fluid. A few drops of mineral based oil, such as engine oil, in your brake system can damage brake system parts.
Information
Use only the specified brake fluid (refer to "Recommended Lubricants and Capacities" section in chapter 2).
Washer fluid
Checking the washer fluid level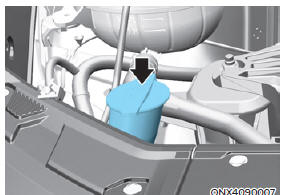 Check the fluid level in the washer fluid reservoir and add fluid if necessary.
Plain water may be used during summer months if washer fluid is not available.
However, use washer solvent with antifreeze characteristics in cold climates to prevent freezing.
WARNING
To prevent serious injury or death, take the following safety precautions when using washer fluid:
Do not use engine coolant or antifreeze in the washer fluid reservoir. Engine coolant can severely obscure visibility when sprayed on the windshield and may cause loss of vehicle control resulting in an accident or damage to paint and body trim.
Do not allow sparks or flame to contact the washer fluid or the washer fluid reservoir. Washer fluid may contain alcohol and can be flammable.
Do not drink washer fluid and avoid contact with skin. Washer fluid is harmful to humans and animals.
Keep washer fluid away from children and animals.
READ NEXT:
Filter replacement The air cleaner filter can be cleaned for inspection using compressed air. Do not attempt to wash or to rinse it, as water will damage the filter. If soiled, the air cleaner filter must be replaced. Pull up the air
Blade inspection Contamination of either the windshield or the wiper blades with foreign matter can reduce the effectiveness of the windshield wipers. Common sources of contamination are insects, tree sap, and hot wax treatments used by some
WARNING To prevent SERIOUS INJURY or DEATH to you or bystanders, always follow these precautions when working near or handling the battery: Always read and follow instructions carefully when handling a battery. Wear eye protection desig
SEE MORE:
Adjustment WARNING If you replaced the dual clutch assembly or clutch actuator, be sure to perform wear compensation by referring to the following table. If the rod length is less than 52 mm (2.0472 in.), replace all of the dual cl
Downhill Brake Control assists the driver to descend down a steep hill without having to depress the brake pedal. The system automatically applies the brakes to maintain vehicle speed below a certain speed and allows the driver to concent