Hyundai Tucson: Air cleaner
Filter replacement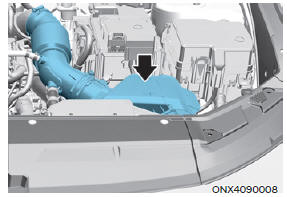 The air cleaner filter can be cleaned for inspection using compressed air. Do not attempt to wash or to rinse it, as water will damage the filter. If soiled, the air cleaner filter must be replaced.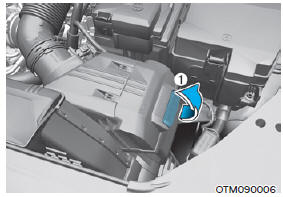 Pull up the air cleaner filter cover (1).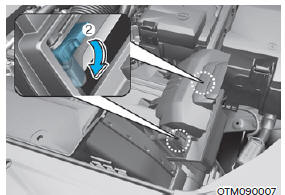 Wipe the inside of the air cleaner.
Pull down the lever to the UNLOCK (2) position.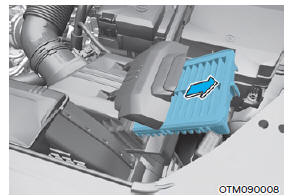 Replace the air cleaner filter.
Reassemble the air cleaner cover in the reverse order.
Information
If the vehicle is operated in extremely dusty or sandy areas, replace the element more often than the usual recommended intervals (refer to "Maintenance Under Severe Usage Conditions" in this chapter).
NOTICE
Do not drive with the air cleaner filter removed. This will result in excessive engine wear.
When removing the air cleaner filter, be careful that dust or dirt does not enter the air intake, or damage may result.
Use HYUNDAI genuine parts or the equivalent specified for your vehicle.

Use of non-genuine parts could damage the air flow sensor.
Cabin air filter
Filter inspection
The cabin air filter should be replaced according to the Maintenance Schedule.
If the vehicle is operated in severely airpolluted cities or on dusty rough roads for a long period, it should be inspected more frequently and replaced sooner.
Replace the cabin air filter by following the procedure below and be careful to avoid damaging other components.
Filter replacement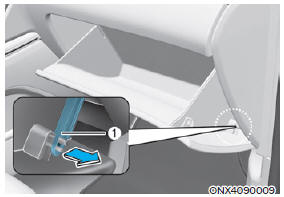 Open the glove box and remove the support rod (1).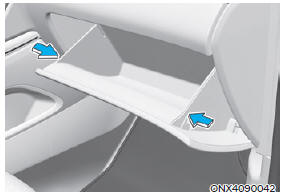 Push in both sides of the glove box as shown. This will ensure that the glove box stopper pins will get released from its holding location allowing the glove box to hang.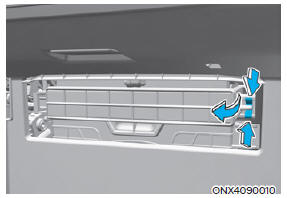 Press and hold the lock on the right side of the cover.
Pull out the cover.
Replace the cabin air filter.
Reassemble in the reverse order of disassembly.
NOTICE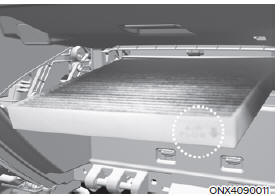 Install a new cabin air filter in the correct direction with the arrow symbol (↓) facing downwards, to prevent noise and improve effectiveness.
READ NEXT:
Blade inspection Contamination of either the windshield or the wiper blades with foreign matter can reduce the effectiveness of the windshield wipers. Common sources of contamination are insects, tree sap, and hot wax treatments used by some
WARNING To prevent SERIOUS INJURY or DEATH to you or bystanders, always follow these precautions when working near or handling the battery: Always read and follow instructions carefully when handling a battery. Wear eye protection desig
WARNING Tire failure may cause loss of vehicle control resulting in an accident. To reduce risk of SERIOUS INJURY or DEATH, take the following precautions: Inspect your tires monthly for proper inflation as well as wear and damage. &nb
SEE MORE:
Removal Turn the ignition switch OFF and disconnect the battery (-) terminal. Remove the engine room under cover. (Refer to Engine Mechanical System - "Engine Room Under Cover") Disconnect the ground cable (A). Tightening to
Components Front camshaft bearing cap Intake camshaft bearing cap Exhaust camshaft bearing cap Cam carrier Fuel pump adaptor Engine hanger Cylinder head Cylinder head gasket Intake OCV center bolt Intake OCV center bolt