Hyundai Tucson: Rear Brake Disc
Rear Brake Disc Thickness Check
Inspection
Check the brake disc for damage and cracks.
Remove all rust and contamination from the surface, and measure the disc thickness at 24 points, at least, of same distance (5mm) from the brake disc outer circle.
Rear brake disc thickness
Standard (Solid disc): 10 mm (0.39 in)
Service Limit: 8.0 mm (0.32 in)
Difference in thickness of each measuring part: Less than 0.005 mm (0.0002 in) (Circumferential direction), 0.01 mm (0.0004 in) (Radial)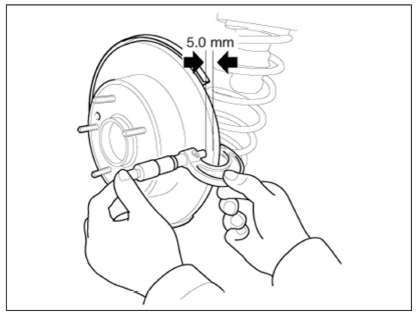 If wear exceeds the limit, replace the discs and pad assembly left and right of the vehicle.
Rear Brake Disc Runout Check
Place a dial gauge about 5mm (0.20 in.) from the outer circumference of the brake disc, and measure the runout of the disc.
Brake disc runout Limit: 0.05 mm (0.0020 in.) or less (new one)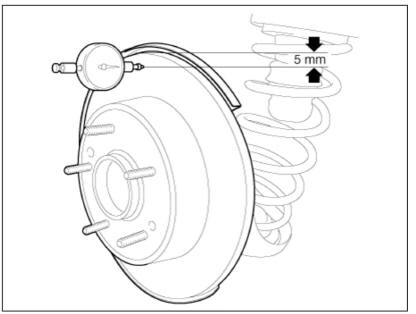 If the runout of the brake disc exceeds the limit specification, replace the disc, and then measure the runout again.
If the runout cannot be corrected by changing the position of the brake disc, replace the brake disc.
Installation
Install in the reverse order of removal.
When istalling. press and rotate the piston into the caliper body until it is fully retracted.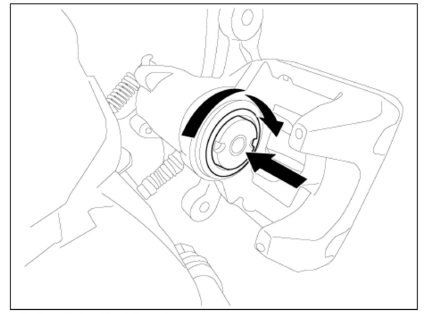 After installation, bleed the brake system.

(Refer to Brake System - "Brake Bleeding Procedures")

After installing the rear caliper, perform "Brake Pad Replacement Mode" using the self-diagnosis. EPB Apply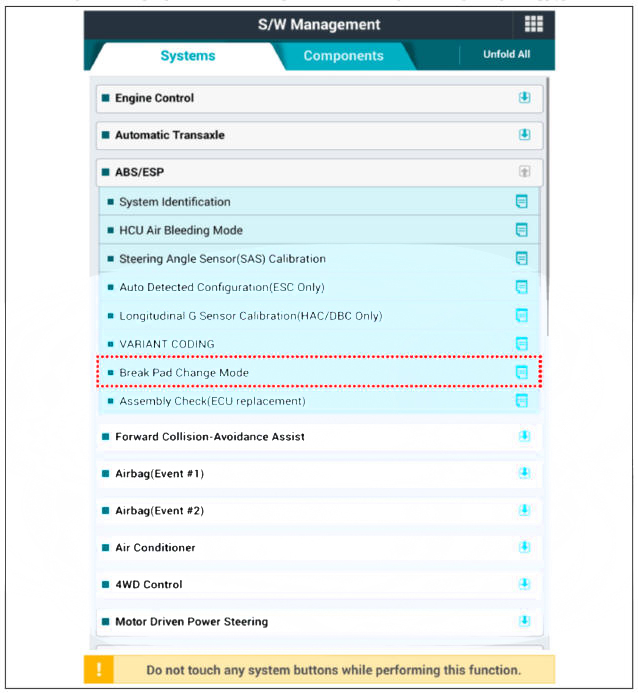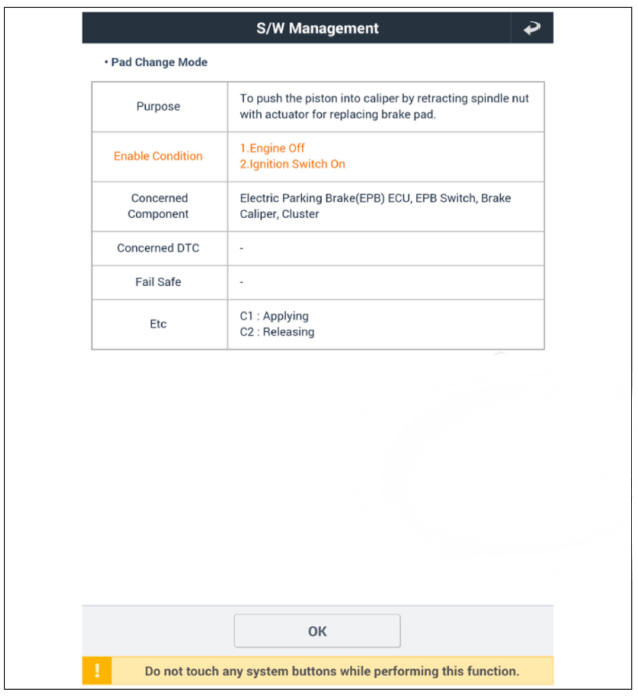 Select CI (Apply) on the screen below.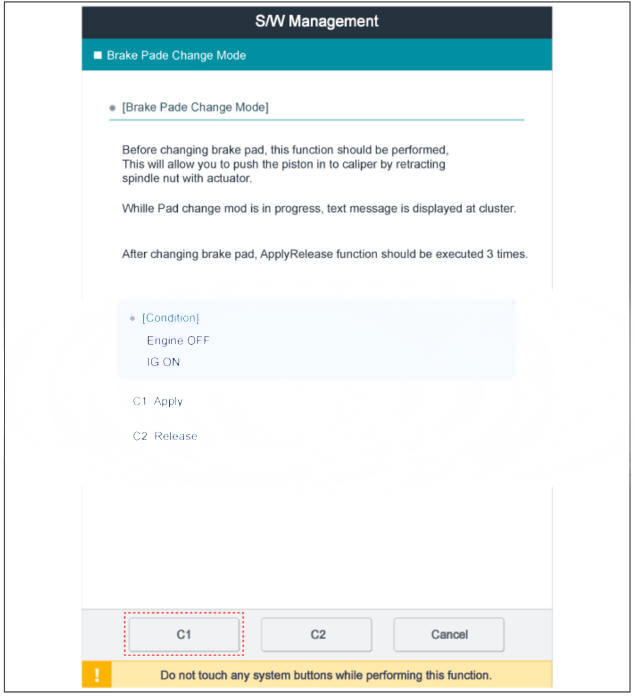 After replacing the rear caliper, make sure that the caliper is installed correctly by performing "Check assembling (ECU replaced)" from the option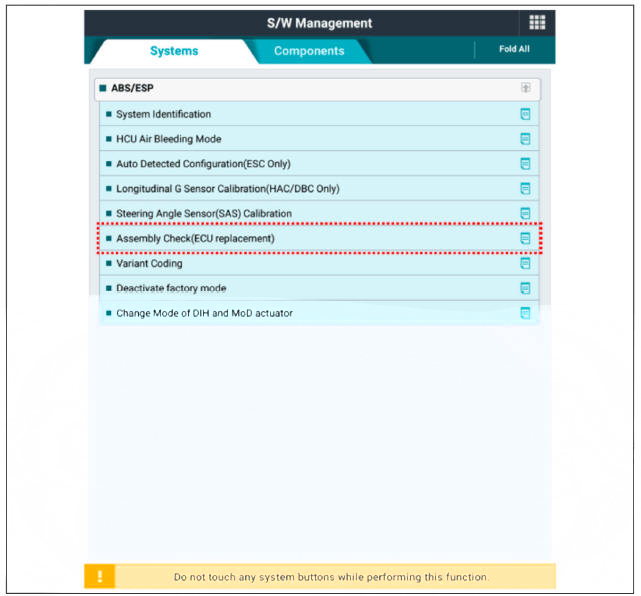 After disassembling/assembling the caliper body or replacing the brake caliper, parking brake cable or brake disc, re-adjust the parking brake. EPB None Apply
Apply the parking brake several times and check for normal operation.
Check if the parking brake is operating normally.
Replacement
WARNING
Be careful not to damage the parts located under the vehicle (floor under cover, fuel filter, fuel tank and canister) when raising the vehicle using the lift.
(Refer to General Information - "Lift and Support Points")
READ NEXT:
Loosen the wheel nuts slightly. Raise the vehicle, and make sure it is securely supported. Remove the front wheel and tire (A) from front hub WARNING Be careful not to damage the hub bolts when removing the front wheel and tire (A).
After installing the rear caliper, perform "Brake Pad Replacement Mode" using the self-diagnosis. EPB Apply Select C2 (Release) on the screen below. After disassembling/assembling the caliper body or replacing
Components Brake member assembly Stop lamp switch Brake pedal arm assembly Brake pedal pad Schematic Diagram System circuit diagram Terminal Function Adjustment Turn ignition switch OFF and disconnect the negat
SEE MORE:
Remove the rear wheel and tire (A). WARNING Be careful not to damage the hub bolts when removing the rear wheel and tire (A). Front Rear Installation Install the rear wheel and tire (A). Front Rear Tighten the hub nuts
Components Location Crankcase Pressure Regulating Valve (PRV) Purge Control Solenoid Valve (PCSV) Canister Fuel Tank Air Filter GPF (Gasoline Particulate Filter) Catalytic Converter (WCC) 1. Crankcase Pressure Regulating Valve (P