Hyundai Tucson: Measuring the resistance of the pressure sensor- Adjustment
Adjustment
Description
The friction material inside the coupling will degrade over time. Therefore, corresponding compensation values must be referenced and entered after replacing the controller or the coupling.
Compensation Requirement and Procedure
Simultaneous replacement of 4WD ECU (Controller) and coupling
Does not require compensation
Replacement of coupling only
Reset the 4WD ECU's (Controller) clutch learning.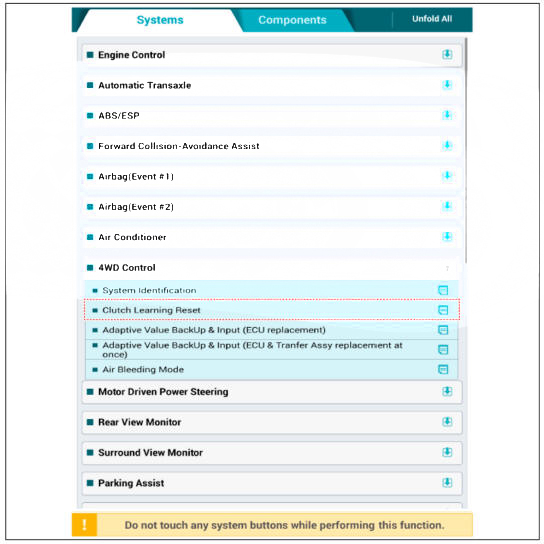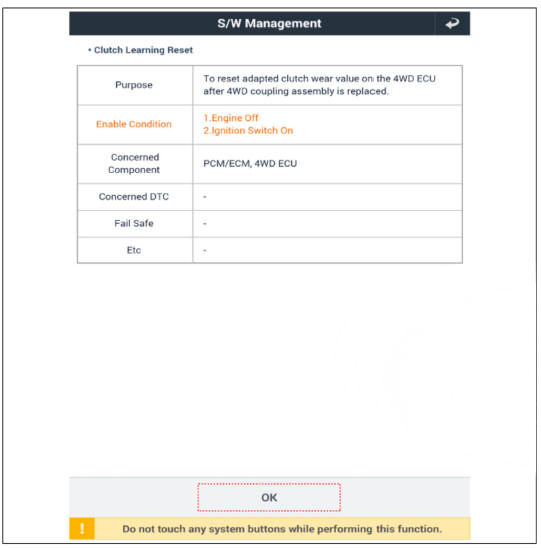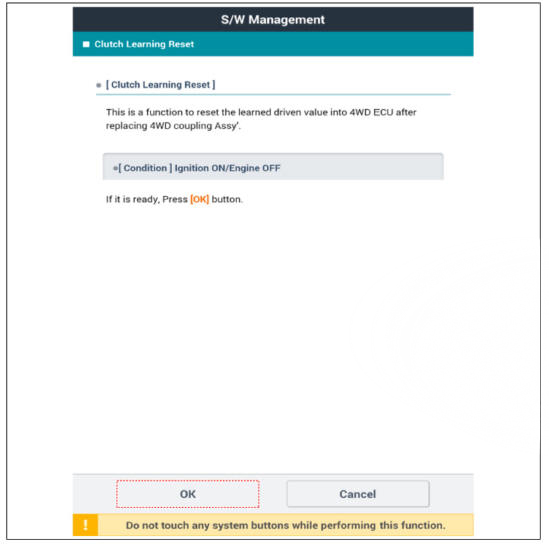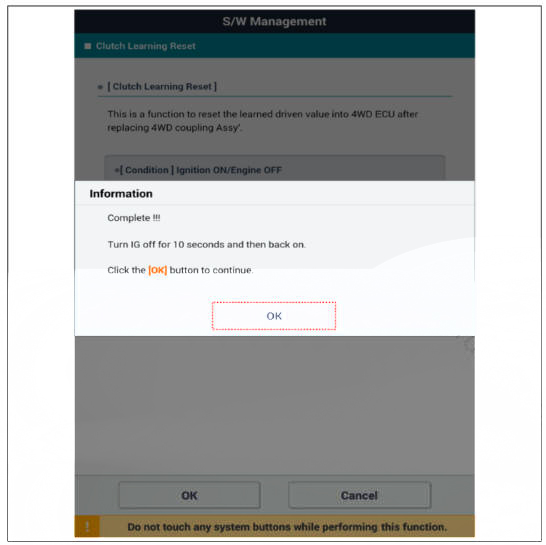 Replacement of 4WD ECU (Controller) only
Before replacement: Check the ECU'S clutch learning.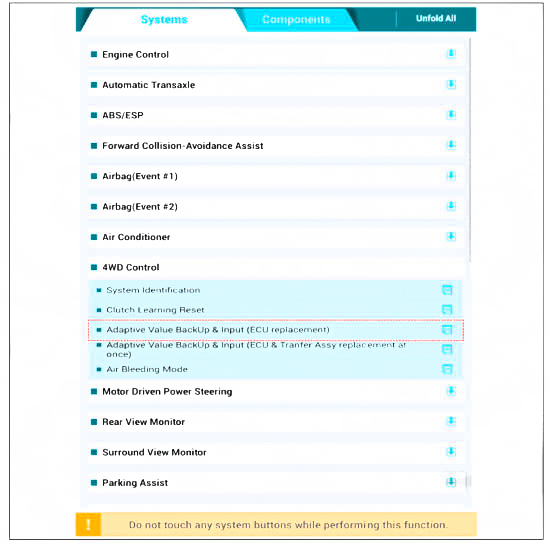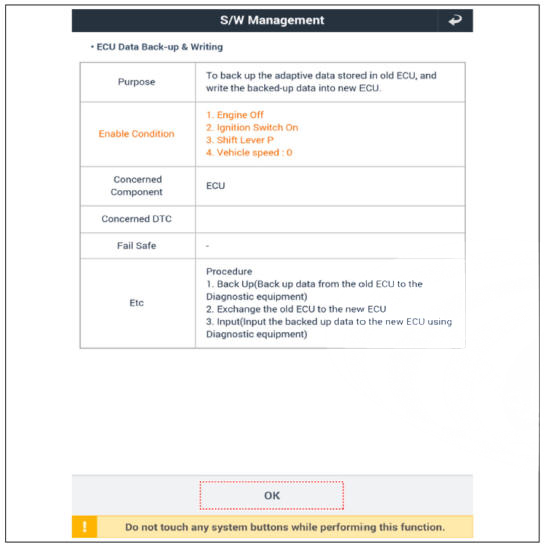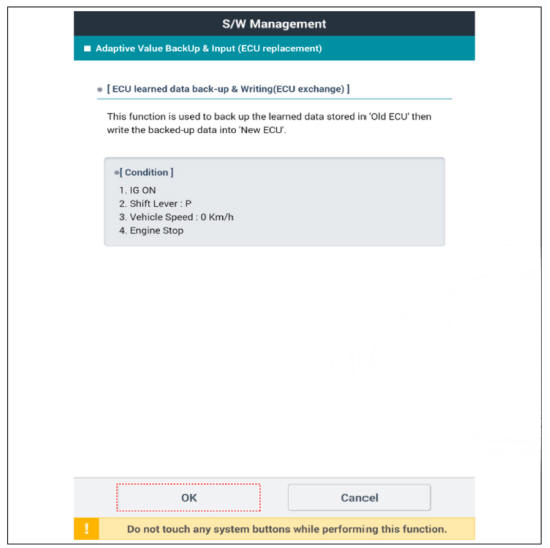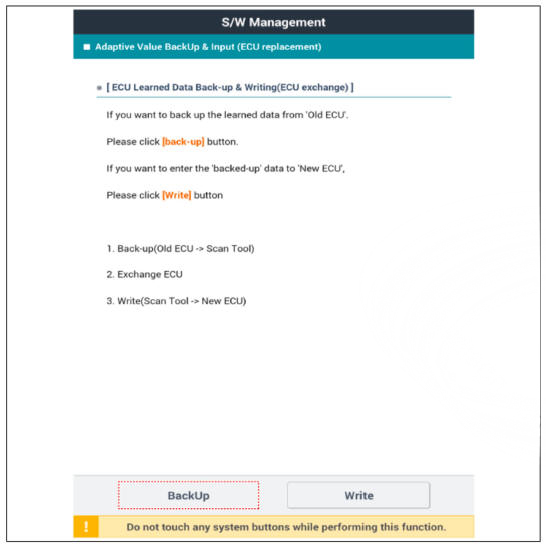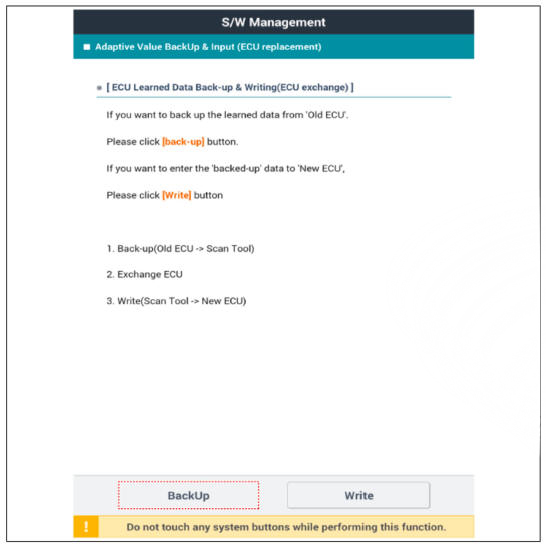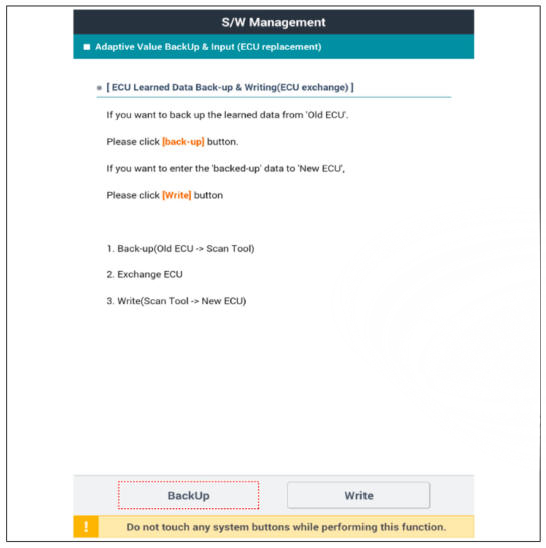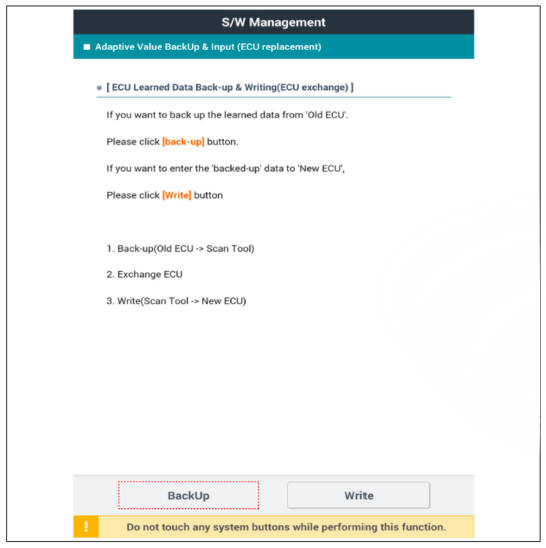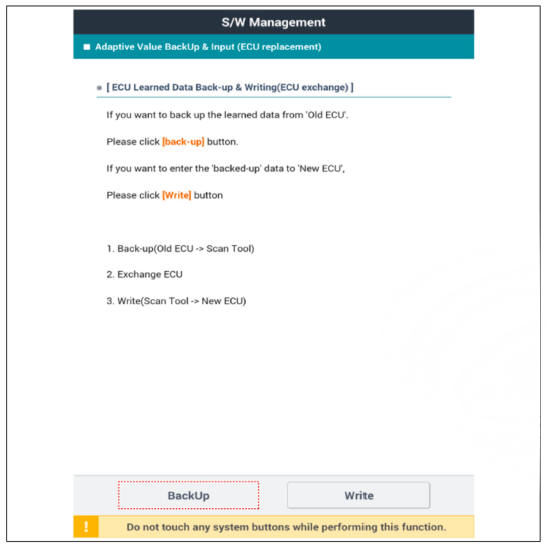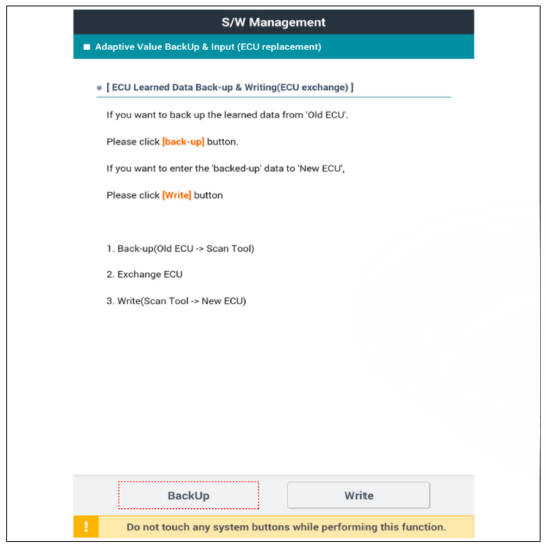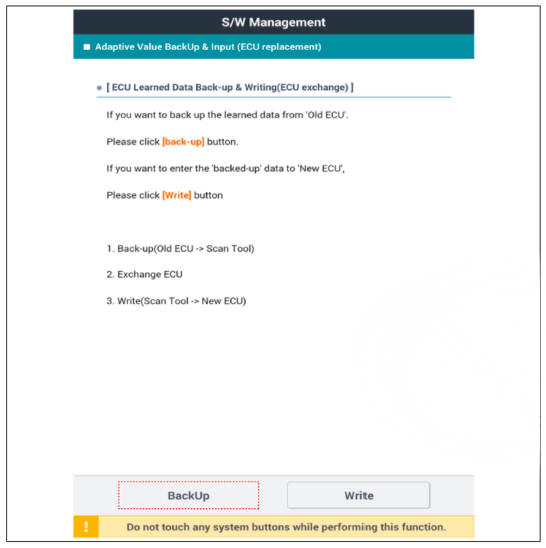 After replacement: Enter the original ECU'S clutch learning into the replacement ECU.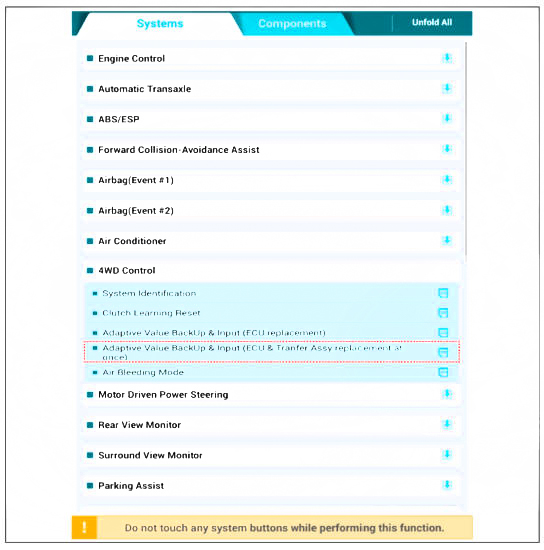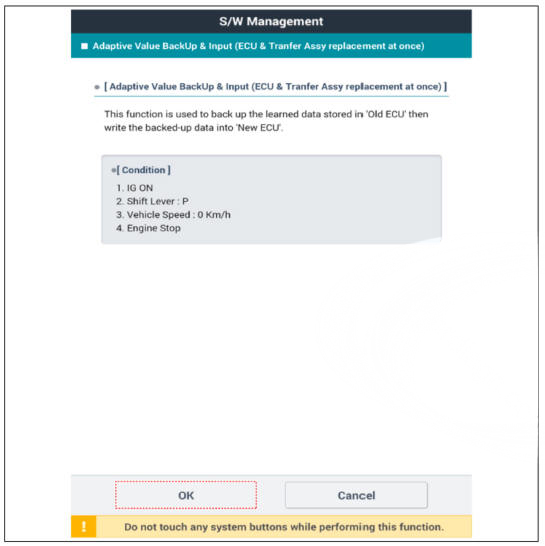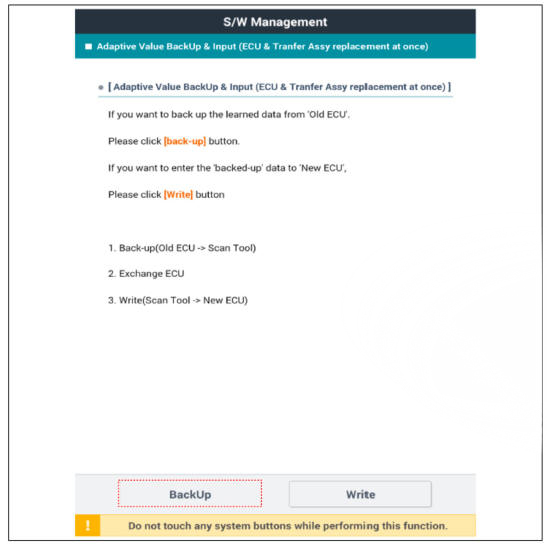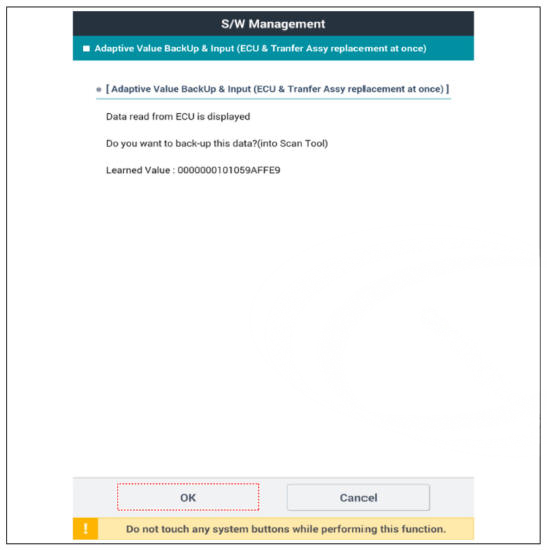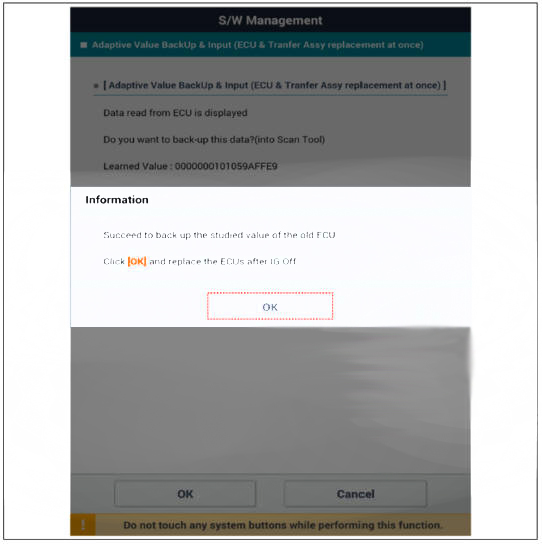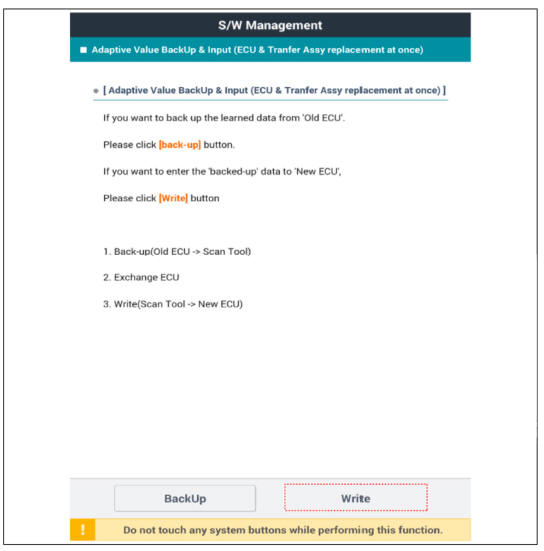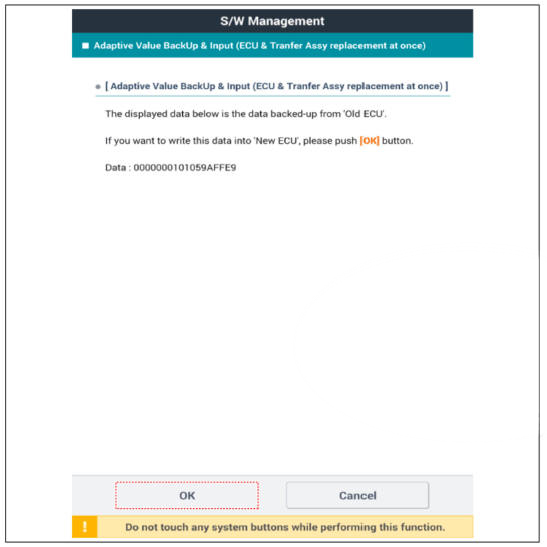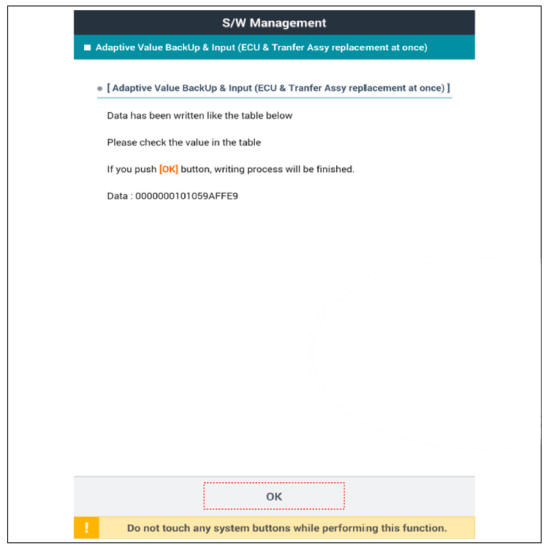 Perform the following procedure in case of the appearance of failure code (P182900. P183600).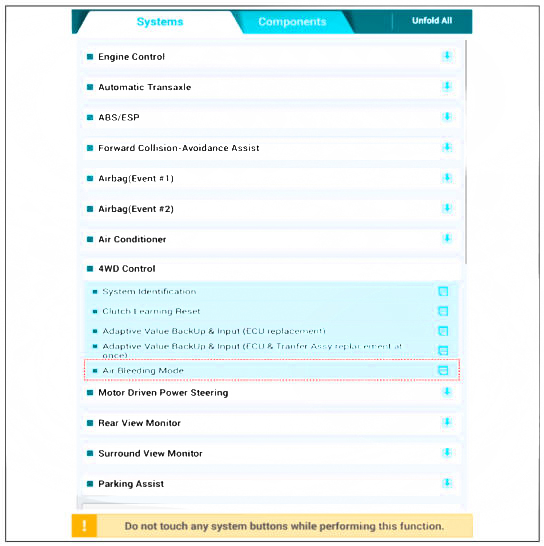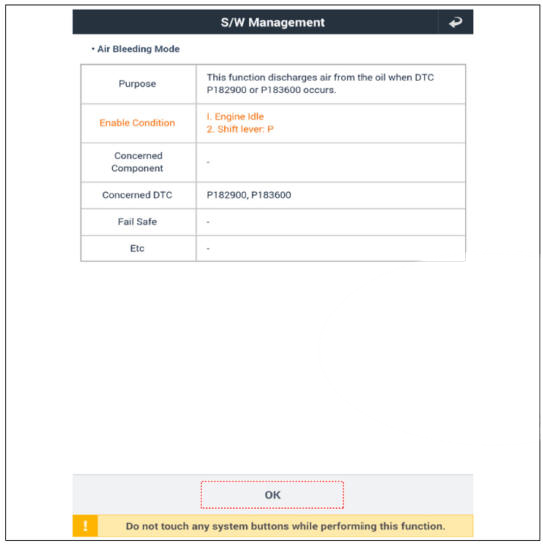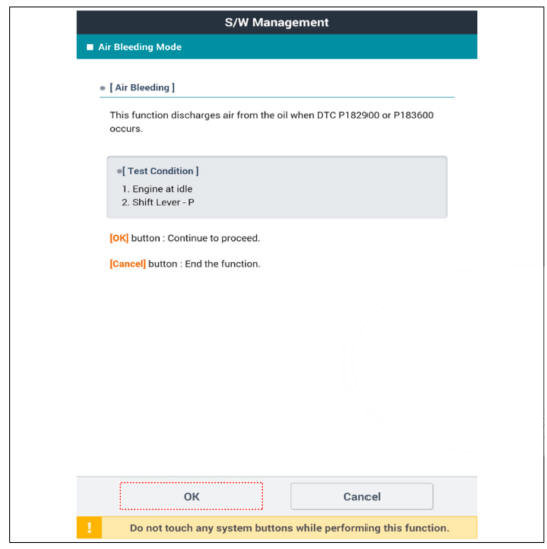 Description
The AWT) ECU distributes the driving force to the front/rear wheel through controlling the multi plate clutch on the AWD transfer case by analyzing the input information, i.e. the wheel speed, accelerator and steering angle depending on the road condition and driving state. The AWD vehicle has different power transmitting conditions depending on the driving/road conditions. The vehicle speed is transmitted through CAN communication from ABS/ESP ECU.
The information from the CAN communication includes the APS which indicates the driver's intention of acceleration, engine torque. ABS/ESP operation signal and gear position. The AWD ECU controls the BLDC' motor, warning lamp and indicating lamp and communicates with the tester equipment. When a vehicle runs at normal speed higher than 60KPH on regular roads, it is controlled under the 2WD conditions. The ECU decides the driving force 011 the front and rear wheel by receiving the signals from all sensors depending on the driving conditions, i.e. abrupt starting, turning and driving 011 the low friction road, and the optimized torque which is proper to the driving condition is transmitted to the front wheel through calculating and controlling the transmitted torque data.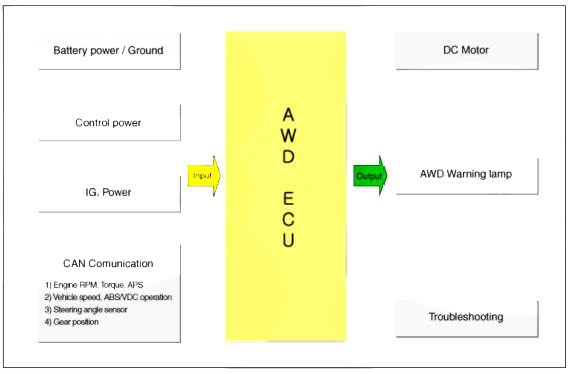 Components Location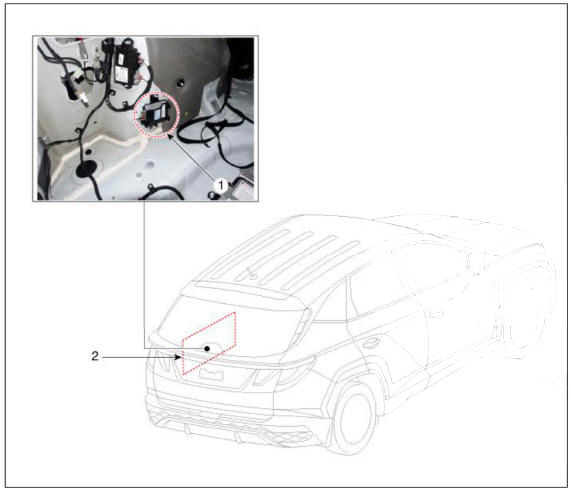 4WD ECU
Luggage side trim Left side
Power Flow Diagram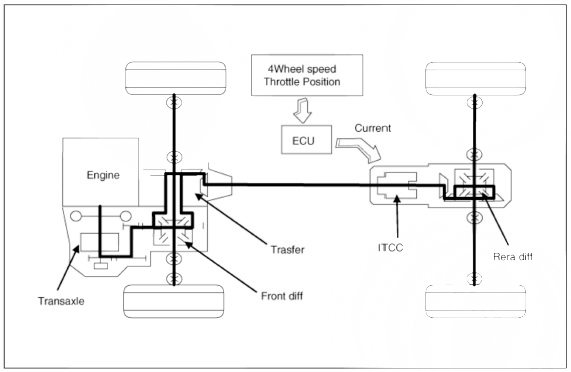 4WD ECU Input&Output Diagram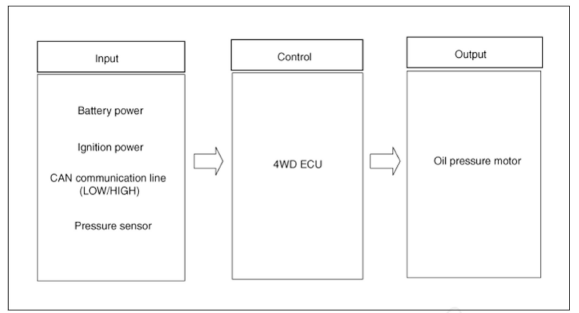 Circuit Diagram
4WD ECU Connector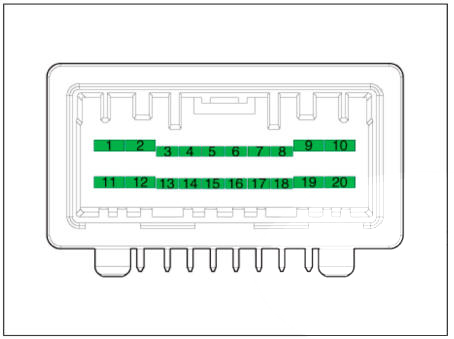 4WD ECU Pin Function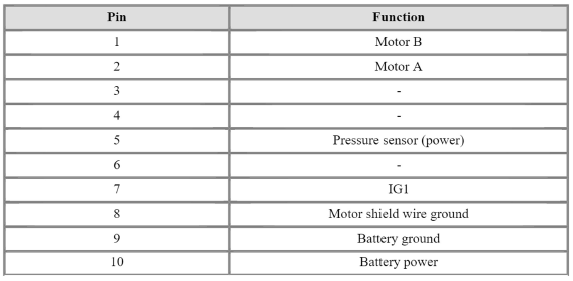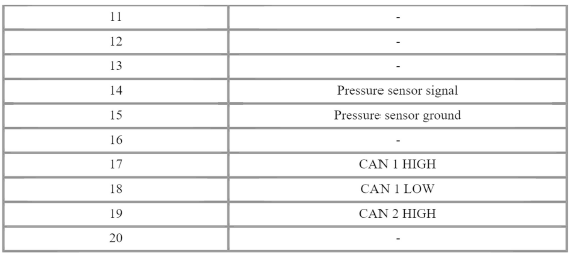 Removal
Prior to replacing the 4WD ECU, check the 4WD ECU's clutch learing with the diagnostic tool.
(Refer to 4WD Control System - "Repair Procedures")
Turn OFF ignition switch and the disconnect the negative (-) battery cable.
Remove the luggage side trim. Left side
(Refer to Body (Interior and Exterior) - "Luggage Side Trim")
Disconnect the 4WD ECU connector (A).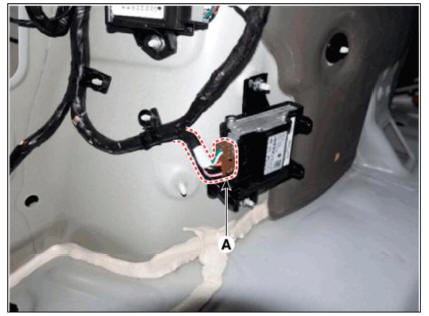 Loosen the nuts and then removing the 4WD ECU (A).
Tightening torque: 9.8 - 11.8 N.rn (1.0 - 1.2 kgf.m, 7.2 - 8.7 lb.ft)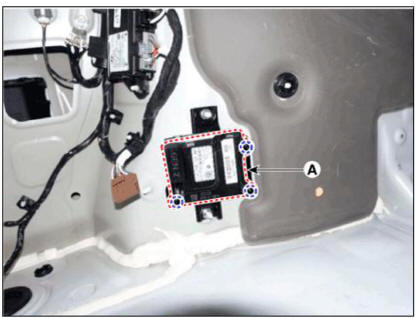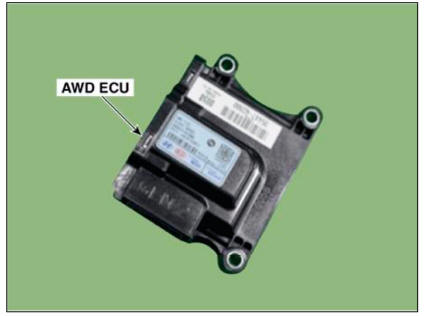 Installation
To install, reverse the removal procedures.
Prior to installing a new ECU, upload the original ECU's clutch learing to the replacement ECU using the diagnostic tool.
(Refer to 4WD Control System - "Repair Procedures")
READ NEXT:
Trouble shooting Area of leakage occuring/ Area/ Type (1) Connecting part/under part of transfer case (2) Connecting part of transmission/ / A (1) Connecting part/under part of transfer case (2) Connecting part of transmission (
Inspection Remove the engine room under cover. (Refer to Engine Mechanical System - "Engine Room Under Cover") Loosen the oil filler plug (A). A Type B Type Check the oil level. WARNING Oil level must be up to fil
SEE MORE:
Turn the ignition switch OFF and disconnect the battery negative (-) cable. Remove the floor under cover front RH. Disconnect the Exhaust Gas Temperature Sensor (EGTS) Front (A) and Rear (B). Remove the gasoline particulate fil
Lane Following Assist is designed to help detect lane markings and/or vehicles on the road, and assists the driver's steering to help center the vehicle in the lane. Detecting sensor [1] : Front view camera The front view camera is used as