Hyundai Tucson: Hood
Opening the hood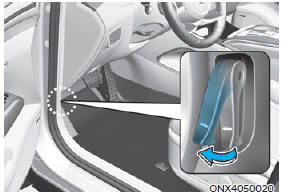 Park the vehicle and set the parking brake.
Pull the release lever to unlatch the hood. The hood should pop open slightly.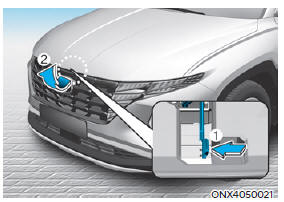 Go to the front of the vehicle, raise the hood slightly, push up the secondary latch (1) inside of the hood center and lift the hood.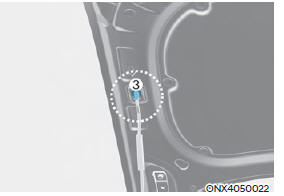 Pull up on the hood support rod.
Install the end of the hood support rod into the slot located on the hood (3).
WARNING
Grasp the hood support rod in the area wrapped in rubber when the engine is hot. The rubber portion will insulate the heat and protect you from burn or injury.
The end of the hood support rod must be inserted fully into the hood slot whenever you inspect the engine compartment. This will prevent the hood from falling and possibly injuring you.
Closing the hood
Before closing the hood, check in and around the engine compartment to ensure the following:
Any tools or other loose objects are removed from the engine room area or hood opening area
All glove, rags, or other combustible material is removed from the engine compartment
All filler caps are tightly and correctly installed
Return the hood support rod to its clip to prevent it from rattling.
Lower the hood until it is about 30 cm (12in.) above the closed position and let it drop. Make sure that it locks into place.
Check that the hood has engaged properly. If the hood can be raised slightly, it is not properly engaged.

Open it again and close it with a little more force.
WARNING
Before closing the hood, ensure all obstructions are removed from around the hood opening.
Always double check to be sure that the hood is firmly latched before driving away. Check there is no hood open warning light or message displayed on the instrument cluster.

Driving with the hood opened may cause a total loss of visibility, which might result in an accident.

Do not move the vehicle with the hood in the raised position, as vision is obstructed, which might result in an accident, and the hood could fall or be damaged.
READ NEXT:
Opening the liftgate Make sure the vehicle is in P (Park) and set the parking brake. Then do one of the following: Unlock all doors with the Door Unlock button on your remote key or smart key. Press the liftgate handle button and o
The power liftgate open/close button automatically opens and closes the liftgate. Before using the power liftgate The power liftgate operates when the gear is in P (Park) with the Engine Start/ Stop button in the ON position. However, the lift
On a vehicle equipped with a smart key, the liftgate can be opened with handsfree activation using the smart liftgate system. Using smart liftgate The hands-free smart liftgate system can be opened automatically when the following conditio
SEE MORE:
Description Real-time continuous control of the damping force according to vehicle running conditions and the state of road surface will enhance ride comfort and steering safety, including roll / pitch reduction in case of vehicle dynamics con
When the tire pressure monitoring system warning indicators are illuminated and a warning message displayed on the cluster LCD display, one or more of your tires is significantly under-inflated. The Low Tire Pressure Position Telltale will