Hyundai Tucson: Brake Booster - Removal
Components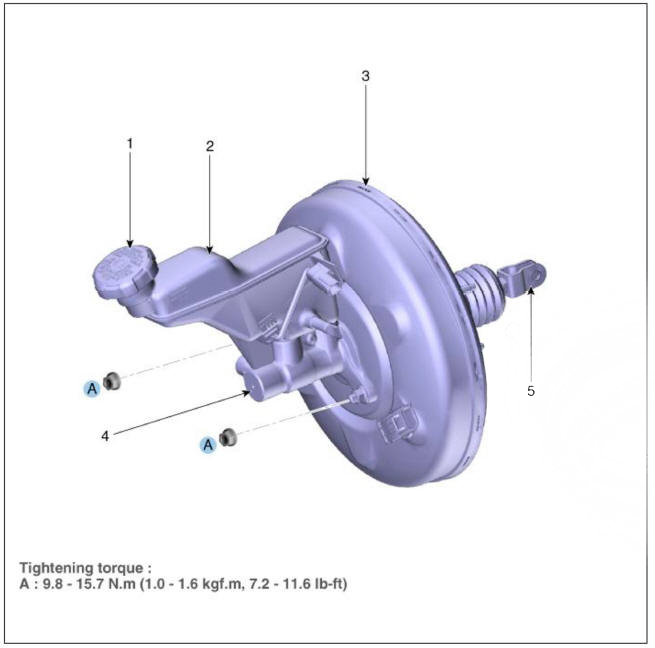 Reservoir cap
Reservoir
Brake booster
Master cylinder
Push rod
Removal
Turm ignition switch OFF and disconnect the negative (-) battery cable.
Remove the battery.

(Refer to Engine Electrical System - "Battery")

Disconnect the brake fluid level sensor connector (A).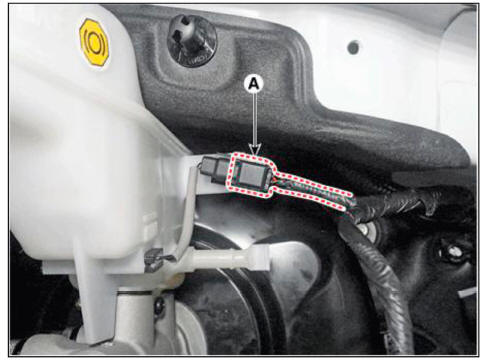 Remove the brake fluid from the master cylinder reservoir with a syringe.
WARNING
Do not spill brake fluid on the vehicle, it may damage the paint; if brake fluid does contact the paint, wash it off immediately with water.
Make sure no dirt or other foreign matter is allowed to contaminate the brake fluid.
Separate the brake tube (A) from the master cylinder after loosening the tube flare nut.
Tightening torque : 18.6 - 22.6 N.m (1.9 - 2.3 kgf.m, 13.7 - 16.6 lb-ft)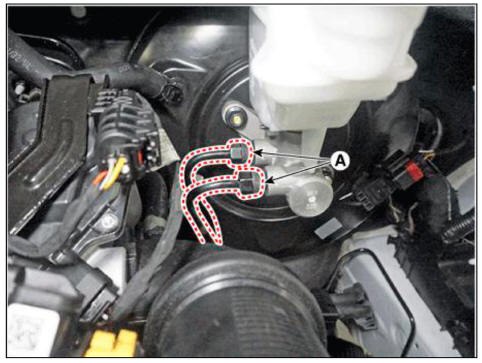 Remove the master cylinder (A) after loosening the master cylinder nuts.
Tightening torque : 9.8 - 15.7 N.rn (1.0 - 1.6 kgf.m, 7.2 -11.6 lb-ft)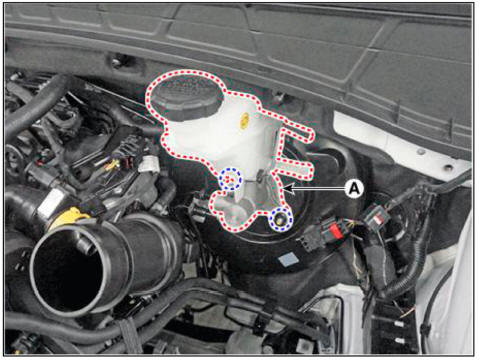 Separate the reservoir from the master cylinder after removing the screw (A).
Installation
Installation is the reverse of removal.
WARNING
Before installing the pin. apply the grease to the joint pin.
Use a new snap pin whenever installing.
After installation, bleed the brake system.

(Refer to Brake System - "Brake Bleeding Procedures")

Check the brake oil leakage and pedal operating condition.
READ NEXT:
Components Removal WARNING Be careful not to damage the parts located under the vehicle (floor under cover, fuel filter, fuel tank and canister) when raising the vehicle using the lift. (Refer to General Information - "Lift and Su
Replacement WARNING Be careful not to damage the parts located under the vehicle (floor under cover, fuel filter, fuel tank and canister) when raising the vehicle using the lift. (Refer to General Information - "Lift and Support Points&q
Components Caliper body Caliper carrier Pad inner shim Pad retainer Brake pad Removal Loosen the wheel nuts slightly. Raise the vehicle, and make sure it is securely supported. Remove the front wheel and tire (A) from the f
SEE MORE:
Description Knocking is a phenomenon characterized by undesirable vibration and noise and can cause engine damage. Knock Sensor (KS) is installed on the cylinder block and senses engine knocking. When knocking occurs, the vibration from the
After the vehicle stops, when an approaching vehicle from the rear area is detected as soon as a passenger opens a door, Safe Exit Warning will warn the driver with a warning message and an audible warning to help prevent a collision. CAUT