Hyundai Tucson: Piston
Clean the piston.
(1) Using a gasket scraper, remove the carbon from the piston top.
(2) Using a groove cleaning tool or broken ring, clean the piston ring grooves.
(3) Using solvent and a brush, thoroughly clean the piston.
WARNING
Do not use a wire brush.
Check the piston-to-cylinder clearance by calculating the difference between the cylinder bore inner diameter and the piston outer diameter.
Piston-to-cylinder clearance : 0.035 - 0.055 mm (0.0014 - 0.0022 in.)
(1) Using a cylinder bore gauge, measure the cylinder bore diameter at position in the thrust and axial direction.
Cylinder bore diameter : 75.60 - 75.63 mm (2.9764 - 2.9776 in.)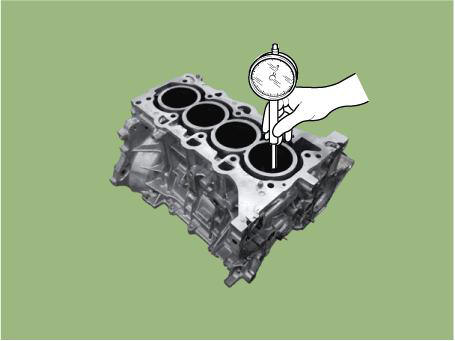 (2) Measure the piston outside diameter at 13.0 mm (0.5118 in.) from top land of the piston.
Piston outside diameter : 75.555 - 75.585mm (2.9746 - 2.9758 in.)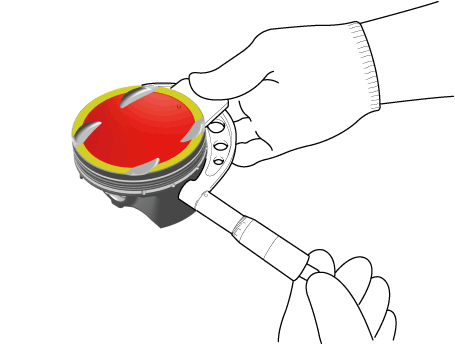 Select the piston matching with cylinder bore class. (match classification mark)
Piston-to-cylinder clearance : 0.035 - 0.055 mm (0.0014 - 0.0022 in.)
(1) Check the cylinder bore size mark on the side of the cylinder block.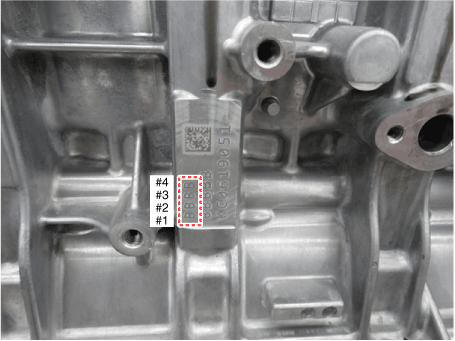 Discrimination of Cylinder Bore Size

(2) Check the piston outer diameter size mark (A) on the piston top face.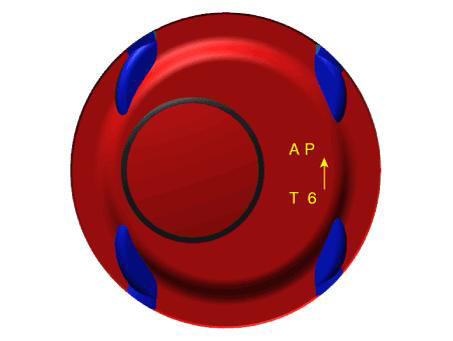 A : GRADE MARK (A,B, C)
T : T-GDI
5 : 1.6L
P : Specification
Discrimination of Piston Outer Diameter

READ NEXT:
Inspect the piston ring side clearance. Using a feeler gauge, measure the clearance between new piston ring and the wall of ring groove. Piston ring groove width dimension of piston No.1 ring : 1.230 - 1.250 mm (0.0484 - 0.0492 in.) No.2 r
WARNING Use fender covers to avoid damaging painted surfaces. To avoid damage, unplug the wiring connectors carefully while holding the connector portion. WARNING Mark all wiring connector and hoses to avoid misconnection. To releas
Letters have been stamped on the side surface of the block as a mark for the size of each of the 5 main journal bores. Use them, and the numbers or letters stamped on the crank (marks for main journal size), to choose the correct bearings.
SEE MORE:
Turn ignition switch OFF and disconnect the battery (-) terminal. Remove the 48V battery assembly (Refer to 48V Battery System - "Repair procedures") Remove the battery cover (A) after loosening the mounting bolts. Tightening
Description Differential Pressure Sensor (DPS) is measure the pressure difference of EGR inlet and outlet. Circuit Diagram Harness Connector Removal Turn the ignition swtich OFF, and then disconnect the battery negative (-) t