Hyundai Tucson: Differential Carrier Assembly- Installation
Installation
Install the differential carrier bracket (A).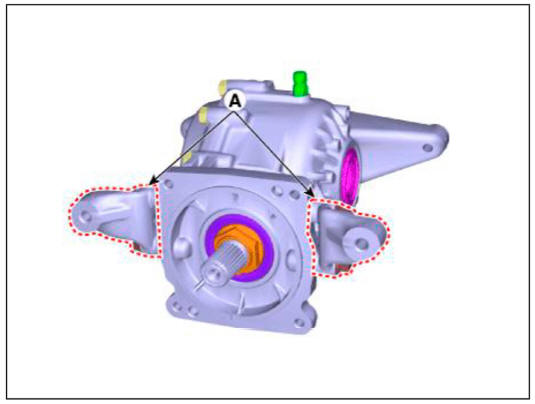 Install the jack and intall the differential carrier assembly (A).
Tightening torque : 68.6 - 88.3 N m (7.0 - 9.0 kgf m , 50.6 - 65.1 lb ft)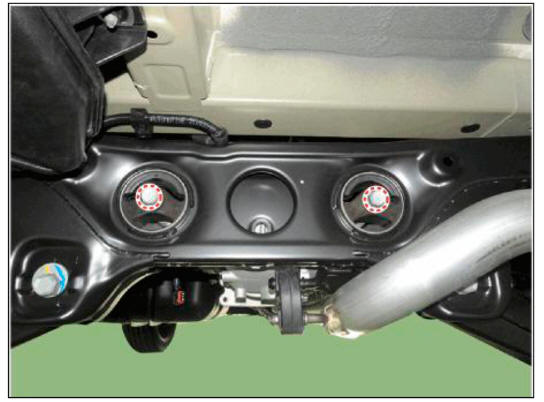 Install the coupling assembly.
(Refer to All Wheel Drive (AWD) System - "Direct Electro Hydraulic Actuator Coupling")
Install the propeller shaft.
(Refer to Propeller Shaft Assembly - "Propeller Shaft")
Install the rear driveshaft.
(Refer to Rear Driveshaft Assembly - "Rear Driveshaft")
Connect the (-) batteiy terminal.
Check the rear alignment.
(Refer to Suspension System - "Alingment")
READ NEXT:
Troubleshooting Wheel and tire diagnosis Rapid wear at the center Center-tread down to fabric due to excessive over inflated tires Lack of rotation Excessive toe on drive wheels Heavy acceleration on drive Rapid wear at both sh
Components Location Front sub frame Steering gear box Front stabilizer bar Front lower arm Front knuckle assembly Components Stmt assembly Spring lower pad Dust cover Coil spring Spring upper pad Bumper rubber I
SEE MORE:
Remove the engine room under cover. (Refer to Engine and Transaxle Assembly - "Engine Room Under Cover") Remove the roll rod bracket (A). Tightening torque : Bolt (B): 107.9 - 127.5 N.m (11.0 - 13.0 kgf.m, 79.6 - 94.0 lb-ft)
Components Fork cover Clutch actuator & TCM assembly Clutch actuator assembly O-ring DCT control module (TCM) Specification Removal Turn ignition switch OFF and disconnect the battery negative (-) terminal. Remove