Hyundai Tucson: Cup holder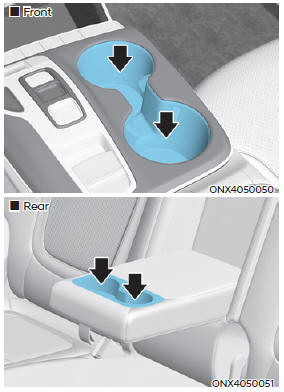 Cups or small beverages cups may be placed in the cup holders.
WARNING
Avoid abrupt starting and braking when the cup holder is in use to prevent spilling your drink. If hot liquid spills, you could be burned.

Such a burn to the driver could cause loss of vehicle control resulting in an accident.

Do not place uncovered or unsecured cups, bottles, cans, etc., in the cup holder containing hot liquid while the vehicle is in motion. Injuries may result in the event of a sudden stop or collision.
Only use soft cups in the cup holders.

Hard objects can injure you in an accident.
WARNING
Keep cans or bottles out of direct sun light and do not put them in a hot vehicle. It may explode.
NOTICE
Keep your drinks sealed while driving to prevent spilling your drink.

If liquid spills, it may get into the vehicle's electrical/electronic system and damage electrical/electronic parts.

When cleaning spilled liquids do not use hot air to blow out or dry the cup holder. This may damage the interior.
Sunvisor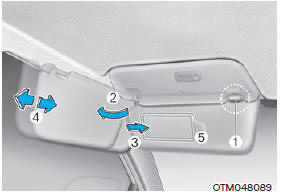 To use the sunvisor, pull it downward.
To use the sunvisor to block the sun from the side window, pull it downward, release it from the bracket (1) and swing it to the side (2) towards the window.
To use the vanity mirror, pull down the sunvisor and slide the mirror cover (3).
Adjust the sunvisor forward or backward (4) as needed (if equipped). Use the ticket holder (5) to hold tickets.
Close the vanity mirror cover securely and return the sunvisor to its original position after use.
WARNING
For your safety, do not block your view when using the sunvisor.
NOTICE
The tab (5) adjacent to the vanity mirror on the sunvisor can be used for toll road tickets or self parking tickets. Use caution when inserting tickets into the ticket holder to avoid damage. Refrain from putting several tickets in the ticket holder as this could also damage the retaining tab.
READ NEXT:
The power outlet is designed to provide power for mobile telephones or other devices designed to operate with vehicle electrical systems. The devices should draw less than 180 watts with the engine running. WARNING Avoid electrical shocks.
[A] : Indicator light, [B] : Charging pad On certain models, the vehicle comes equipped with a wireless smart phone charger. The system is available when all doors are closed, and when the Engine Start/ Stop button is in the ON (or START)
These hooks are not designed to hold large or heavy items. WARNING Do not hang other objects such as hangers or hard objects except clothes. Also, do not put heavy, sharp or breakable objects in the clothes pockets. In an accident or when th
SEE MORE:
Reassembly To reassembly, reverse the disassembly procedure. Installation To install, reverse the removal procedures. Description Heated pads to grip the steering grip makes the fever. Heated pad Specifications System Circ
The emission control system of your vehicle is covered by a written limited warranty. Please see the warranty information contained in the Service Passport in your vehicle. Your vehicle is equipped with an emission control system to meet all