Hyundai Tucson: Transmission Control Module (TCM) Inspection Procedure
Inspection
Inspecting TCM ground circuit: Measure the resistance between the TCM and chassis ground.

(Check the terminal connected to the chassis ground while using the back of the harness connector as the base point for TCM.)
Normal reading (resistance): Below 1

Inspecting the TCM connector: Disconnect the TCM connector and visually inspect to see whether there is a bend on the ground terminal of the harness connector. Also visually check the connection pressure.
If no problem is found during inspection in step 1 and step 2, then the problem is with the TCM itself. In this case, replace the TCM and inspect the vehicle again.
Re-inspecting TCM: Install the TCM that was determined to have malfunctioned from step 3 in another vehicle. Reset the error code and then check the operation in that vehicle. If the vehicle operates without any problems, then inspect the first vehicle with the initial problem again.
Removal
Prior to replacing the TCM, check the TCM clutch compensation value with the diagnostic tool tool.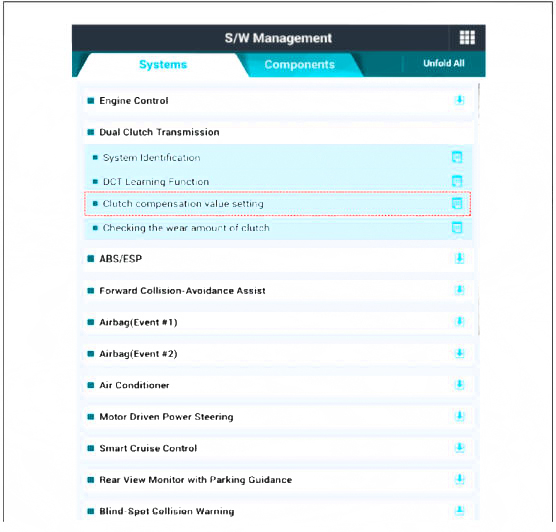 Turn ignition switch OFF and disconnect the battery negative (-) terminal.
Remove the clutch actuator assembly.
(Refer to Dual Clutch Transmission Control System - "Clutch Actuator & TCM Assembly")
Loosen the bolts (A) and then removing the TCM (B).
Tighteuning torque: 7.8 - 9.8 N.m (0.8 - 1.0 kgf.m. 5.8 - 7.2 lb-ft)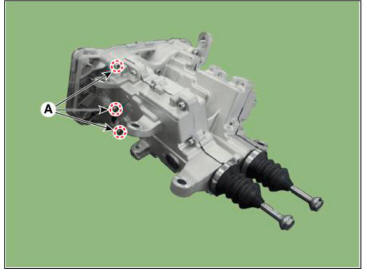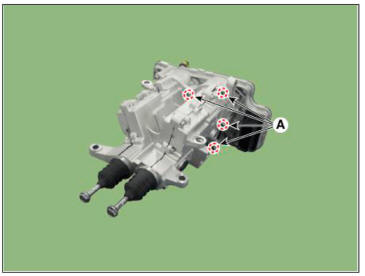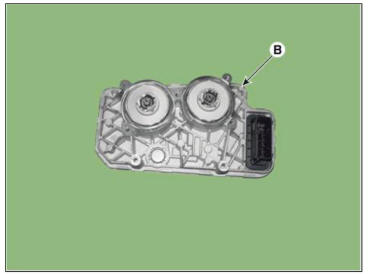 READ NEXT:
Installation To install, reverse the removal procedure. WARNING The existing O-rings (A) must be replaced with a new one. (Do not reuse it.) Perform the clutch compensation value setting procedure using the diagnostic tool after rep
Components Fork cover Clutch actuator & TCM assembly Clutch actuator assembly O-ring DCT control module (TCM) Specification Inspection The DCT system can be more quickly diagnosed for troubles by using the vehicle diagn
Installation To install, reverse the removal procedures. Check the assembled state of the dowel pins (A) before installing the clutch acmator assembly. Perform the clutch touch point learning procedure using the diagnostic tool.
SEE MORE:
Removal WARNING When lifting a vehicle using a lift, be careful not to damage the lower parts of the vehicle (floor under cover, fuel filter, fuel tank, canister). (Refer to General Information - "Lift Point") Loosen the front w
Components Integrated thermal management module (ITM) Heater pipe Heater hose Turbo charger coolant hose Heater pipe A Heater pipe A gasket Oil cooler hose A Oil cooler pipe Integrated Thermal Management Module (ITM) WARNING