Hyundai Tucson: Transfer Assembly- Installation
To install, reverse the removal procedures.
WARNING
Be careful not to damage the O-ring (A). If the O-ring is damaged, replace with a new one.
Smear and cover splines (B) with molybdenum type high pressure grease.
GREASE SPL-1 equivalent (MS511-07)
A Type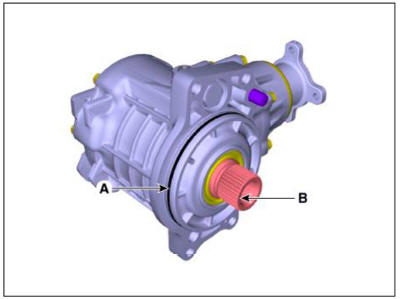 B lype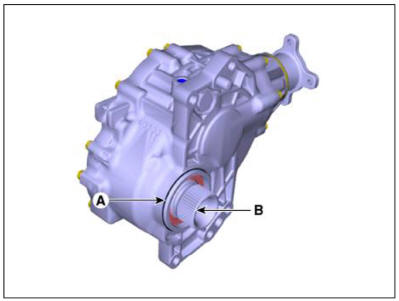 Install the propeller shaft to be near runout marking (Transfer assembly lea (A), propeller shaft lea (B) each other.
Transfer Assembly- Replacement
Replacement
Transaxle side oil seal AType
Remove the transfer assembly.
(Refer to 4 Wheel Drive (4WD) System - "Front Wheel Transfer Assembly")
Remove the transfer assembly side oil seal (A).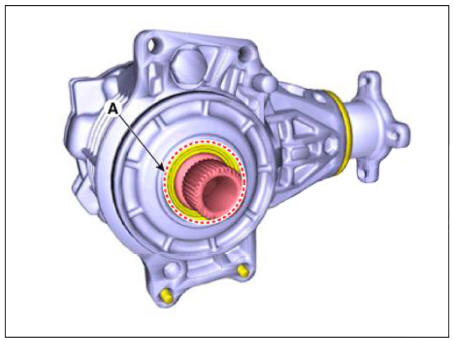 Install the oil seal with a new one by using the special service tools 09473-D3600(A), 09231-H1100 (B).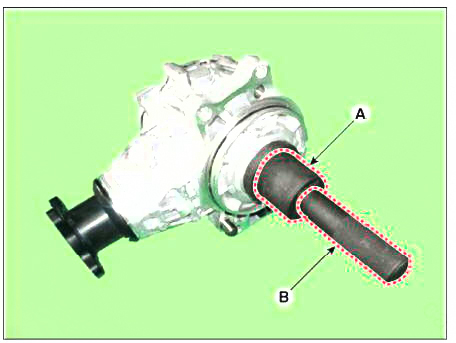 Remove the special service tools
Install the transfer assembly.
(Refer to 4 Wheel Drive (4WD) System - "Front Wheel Transfer Assembly")
READ NEXT:
Remove the transfer assembly. (Refer to 4 Wheel Drive (4WD) System - "Front Wheel Transfer Assembly") Remove the dust cover (A). Remove the oil seal #1 (A). Install the oil seal #1 (A) with a new one by using t
Remove the transfer assembly. (Refer to 4 Wheel Drive (4WD) System - "Front Wheel Transfer Assembly") Remove the dust cover (A). Remove the oil seal #2 (A). Install the oil seal #2 (A) with a new one by using t
Remove the transfer assembly. (Refer to 4 Wheel Drive (4WD) System - "Front Wheel Transfer Assembly") Remove the dust cover (A). Remove the oil seal #2 (A). Remove the oil seal #3 (A). Install the oil
SEE MORE:
Inspection WARNING In principle, the transmission oil is maintenance-free, and no exchange is required. But it must be inspected and replenished every 4 years or 40,000 miles. Uplift the vehicle with lift. Remove the engine room under co
Components Rear drive shaft Removal WARNING When lifting a vehicle using a lift, be careful not to damage the lower parts of the vehicle (floor under cover, fuel filter, fuel tank, canister). (Refer to General Information - "L