Hyundai Tucson: Tie rod end
Remove the tie rod end after loosening the nut.
Tightening torque : 49.0 - 53.9 N.m (5.0 - 5.5 kgf.m, 36.2 - 39.8 lb-ft)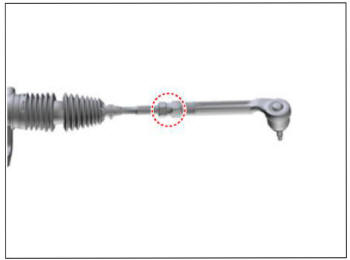 WARNING
Before removing the tie rod end, note by measuring the length of the thread or marked with paint.
Replace with new parts.
Check the alignment.

(Refer to Suspension System - "Alingmeut")
Power Pack And Short Gear
Disconnect the power pack connector (A).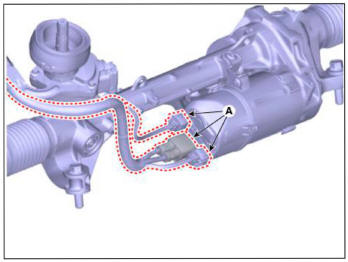 Replace the power pack (A) after loosening the mounting bolts.
Tightening torque : 19.6 - 23.5 N.m (2.0 - 2.4 kgf.m, 14.5 - 17.4 lb-ft)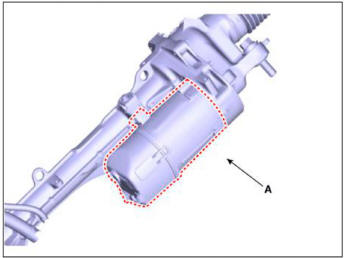 In case of the power pack replacement, replace the power pack only and reuse the existing short gear.

In case of the short gear replacement, replace the short gear only and reuse the existing power pack.
WARNING
For assembly, the new product is basically coated with grease for workability.
When installing the power pack on the MDPS, install it in the following direction.
Be sure to check whether the coupling (A) is assembled.

(If it cannot be used due to the existing coupling deformation/breakage, request for new A/S and assemble.)
After replacing the power pack motor, "Steering Angle Sensor (SAS) Calibration" and "MDPS Turning Data Setting (Backup and Write)" and "Set the steering feel torque to zero" must be done
Lead Wire
Replace the lead wire (B) after disconnecting the power connector (A).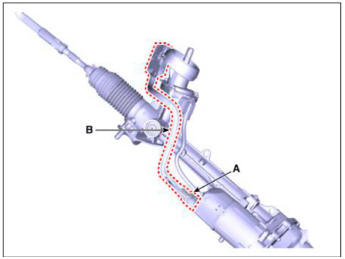 MDPS Type Recognition procedures
Connect the diagnostic tool diagnostic tool to the vehicle's self-diagnostic connector.
Key on the Ignition switch.
After Selecting the "vehicle model" and "system", select the "EPS Type Recognition" on diagnostic tool vehicle selection screen.
MDPS Type Recognition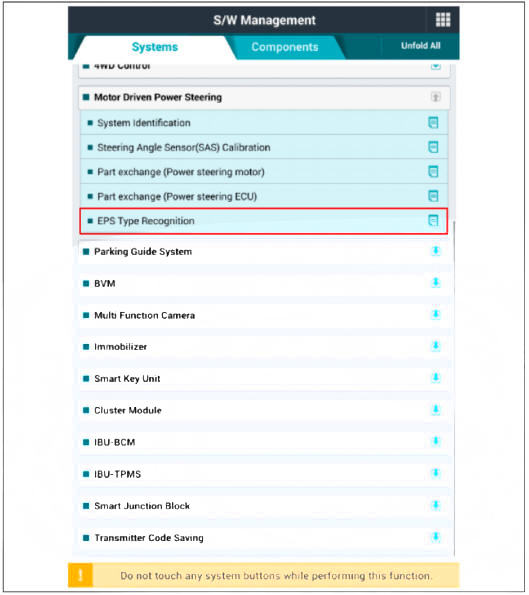 MDPS Type Recognition 1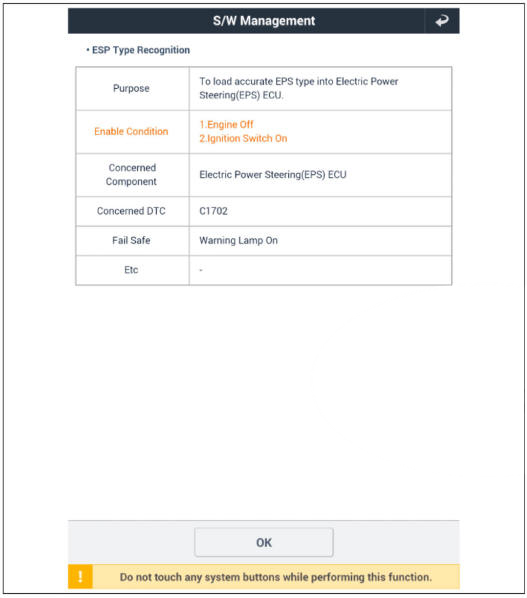 READ NEXT:
Please read the following precautions carefully before performing the airbag system service. Observe the instructions described in this manual, or the airbags could accidentally deploy and cause damage or injuries. Except when performing
Do not disassemble the airbags; it has no serviceable parts. Once an airbag has been deployed, it cannot be repaired or reused. For temporary storage of the air bag during sendee, please observe the following precautions. Store the removed
SEE MORE:
Front cable Disconnect the (-) batteiy terminal. Release the parking brake. Remove the crash pad lower panel. (Refer to Body - "Crash Pad Lower Panel") Remove the Integrated Central Control Unit (ICU). (Refer to Body Elect
Mechanical key Pull out the door handle. Press the release button (1) located inside the bottom part of the cover with a mechanical key or flat-head screwdriver. Carefully pull outward on the cover while continuing to press the re