Hyundai Tucson: Starter Brush Holder Test
Check that there is no continuity between the (+) brush holder (A) and (-) plate (B). If there is continuity, replace the brush holder assembly.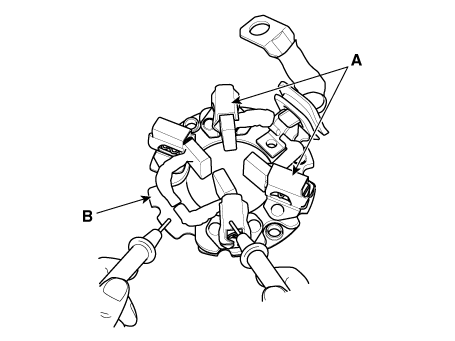 Inspect Overrunning Clutch
Slide the overrunning clutch along the shaft.

Replace if it does not slide smoothly.

Rotate the overrunning clutch both ways.

Does it lock in one direction and rotate smoothly in reverse? If it does not lock in either direction or locks in both directions, replace it.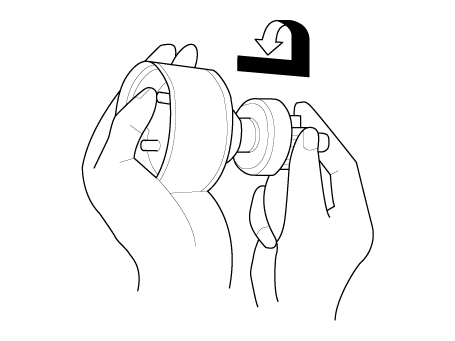 If the starter drive gear is worn or damaged, replace the overrunning clutch assembly. (The gear is not available separately.) Check the condition of the flywheel or torque converter ring gear if the starter drive gear teeth are damaged.
Cleaning
Do not immerse parts in cleaning solvent.

Immersing the yoke assembly and/or armature will damage the insulation wipe these parts with a cloth only.

Do not immerse the drive unit in cleaning solvent.

The overrun clutch is pre-lubricated at the factory and solvent will wash lubrication from the clutch.

The drive unit may be cleaned with a brush moistened with cleaning solvent and wiped dry with a cloth.
Inspection
Turn ignition switch OFF and disconnect the battery negative (-) terminal.
Remove the fuse box cover.
Remove the starter relay (A).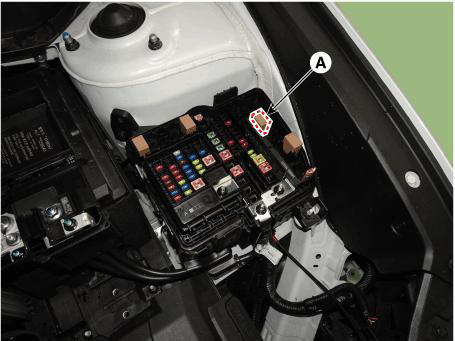 Check for continuity between the terminals (30 and 87) using an ohmmeter.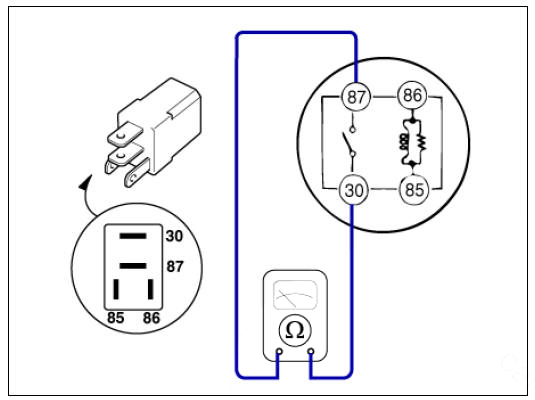 Apply 12V to the terminal 85 and ground to the terminal 86 and then check for continuity between the terminals (30 and 87).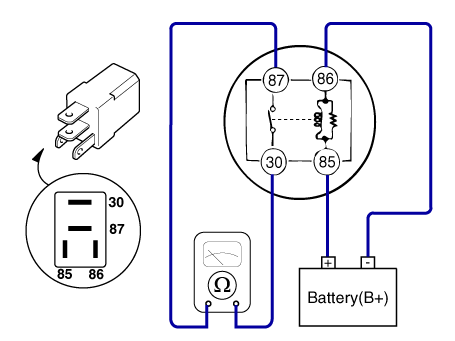 Install the starter relay.
Install the fuse box cover.
READ NEXT:
Components Location Crankcase Pressure Regulating Valve (PRV) Purge Control Solenoid Valve (PCSV) Canister Fuel Tank Air Filter GPF (Gasoline Particulate Filter) Catalytic Converter (WCC) 1. Crankcase Pressure Regulating Valve (P
Description Crankcase pressure regulating valve (PRV) Breather hose Air flow Intake manifold Cylinder block Blow-by gas flow Blow-by gas inflow to the cylinder head cover throungh the cylinder block & head & chain c
SEE MORE:
Components Brake member assembly Stop lamp switch Brake pedal arm assembly Brake pedal pad Schematic Diagram System circuit diagram Terminal Function Adjustment Turn ignition switch OFF and disconnect the negat
Description It generates the oil pressure and temperature information (output voltage) to control the pump operation proportional control valve in variable oil pump system. It measures the oil pressure and temperature discharged from the oil p