Hyundai Tucson: Seats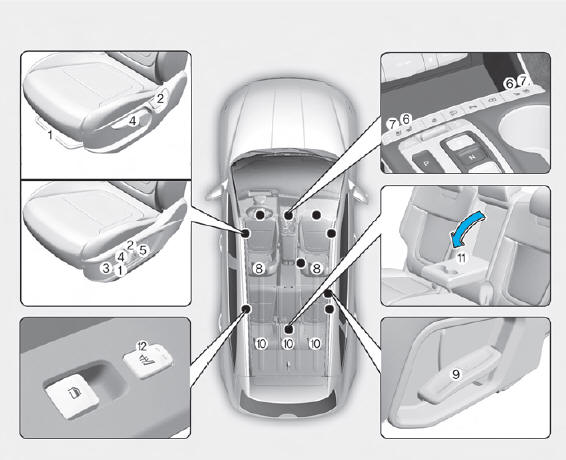 The information provided may differ depending on which functions are applicable to your vehicle.
Front seat
Forward and rearward
Seatback angle
Seat cushion angle*
Seat cushion height
Lumbar support (Driver's seat)*
Seat warmer*
Air ventilation seat*
Headrest
Rear seats
Seatback angle and folding
Headrest
Armrest
Seat warmer *
*: if equipped
Safety precautions
Adjusting the seats so that you are sitting in a safe and comfortable position plays an important role for the safety of the driver and passengers, as much as seat belts and air bags when in an accident.
WARNING
Do not use a cushion that reduces friction between the seat and the passenger. The passenger's hips may slide under the lap portion of the seat belt during an accident or a sudden stop.
Serious or fatal internal injuries could result because the seat belt cannot operate properly.
Air bags
You can take steps to reduce the risk of being injured by an inflating air bag.
Sitting too close to an air bag greatly increases the risk of injury in the event the air bag inflates.
The National Highway Traffic Safety Administration (NHTSA) recommends that drivers allow at least 10 inches (25cm) between the center of the steering wheel and their chest.
WARNING
To reduce the risk of serious injury or death from an inflating air bag, take the following precautions:
Adjust the driver's seat as far to the rear as possible maintaining the ability to control the vehicle.
Adjust the front passenger seat as far to the rear as possible.
Hold the steering wheel by the rim with hands at the 9 o'clock and 3 o'clock positions to minimize the risk of injuries to your hands and arms.
NEVER place anything or anyone between you and the air bag.
Do not allow the front passenger to place feet or legs on the dashboard to minimize the risk of leg injuries.
Seat belts
Always fasten your seat belt before starting any trip. At all times, passengers should sit upright and be properly restrained. Infants and small children must be restrained in appropriate Child Restraint Systems. Children who have outgrown a booster seat and adults must be restrained using the seat belts.
WARNING
Take the following precautions when adjusting your seat belt:
NEVER use one seat belt for more than one occupant.
Always position the seatback upright with the lap portion of the seat belt snug and low across the hips.
NEVER allow children or small infants to ride on a passenger's lap.
Do not route the seat belt across your neck, across sharp edges, or reroute the shoulder strap away from your body.
Do not allow the seat belt to become caught or jammed.
READ NEXT:
WARNING Take the following precautions when adjusting your seat: NEVER attempt to adjust the seat while the vehicle is moving. The seat could respond with unexpected movement and may cause loss of vehicle control resulting in an accid
Seatback angle To recline the seatback: Pull up the seatback recline lever. Hold the lever and adjust the seatback of the seat to the position you desire. Release the lever and make sure the seatback is locked in place. (The leve
Seat warmers are provided to warm the seats during cold weather. During mild weather or under conditions where the operation of the seat warmer is not needed, keep the seat warmers OFF. WARNING The seat warmers can cause a SERIOUS BURN, eve
SEE MORE:
Adjustment Description The friction material inside the coupling will degrade over time. Therefore, corresponding compensation values must be referenced and entered after replacing the controller or the coupling. Compensation Requirement and Pr
WARNING Thoroughly clean all parts to assembled. Before installing the parts, apply fresh engine oil to all sliding and rotating surfaces. Always use new gaskets, O-ring and oil seals. Install the crankshaft position sensor wheel