Hyundai Tucson: Rail Pressure Sensor (RPS)
Description
Installed on the delivery pipe, the Rail Pressure Sensor (RPS) measures the instantaneous fuel pressure in the delivery pipe. The sensing element (Semiconductor element) built in the sensor converts the pressure to voltage signal.
By using this signal, the ECM can control correct injection amount and timing and adjust the fuel pressure with the fuel pressure regulator valve if the target pressure is different from the actual pressure calculated by the RPS output signal.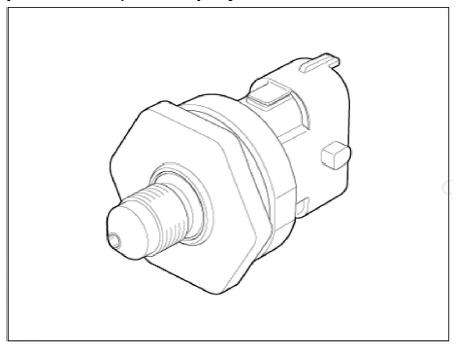 Specification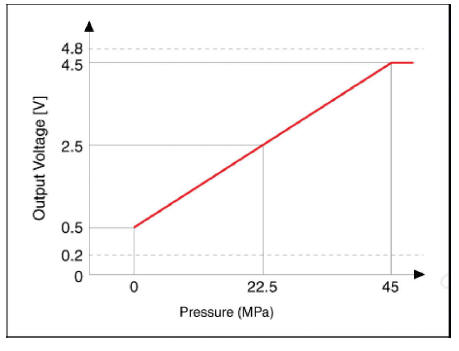 Circuit Diagram

Harness Connector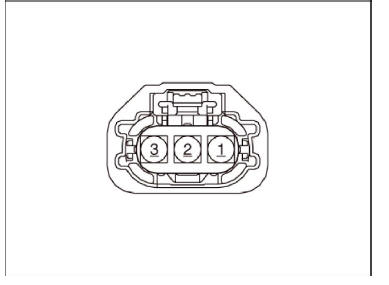 Inspection
Connect the diagnostic tool on the Data Link Connector (DLC).
Measure the output voltage of the RPS at idle and various engine speed.

Removal
Release the residual pressure in fuel line.
(Refer to Fuel Delivery System - "Release Residual Pressure in Fuel Line")
Turn the ignition switch OFF and disconnect the battery negative (-) cable.
Remove the intake manifold.
(Refer to Engine Mechanical System - "Intake Manifold")
Disconnect the rail pressure sensor connector and then remove the sensor (A) from the delivery pipe.
Tightening torque : 29.4 - 34.3 N.m (3.0 - 3.5 kgf.m, 10.8 - 15.9 lb-ft)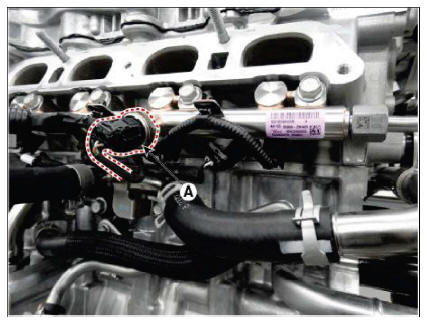 Installation
Install the component to the specified torques.
Note that internal damage may occur when the component is dropped. In this case, use it after inspecting.
Apply the sealant to the sensor.
Insert the sensor in the installation hole and be careful not to damage it during installation.
Install in the reverse order of removal.
READ NEXT:
The GDI injector is similar to a standard injector, but sprays fuel at a much higher pressure directly into the combustion chamber and has a swirl disc to get the fuel swirling as it exits the nozzle. This aids in atomization of the fuel. Th
The injector combustion seal should be replaced new one to prevent leakage after removing the injector. 1. Remove the combustion seal (A) with a wire cutter. WARNING Grip the sealing ring carefully, pull it to form a small loop and t
SEE MORE:
Removal and Installation Remove the engine room under cover. (Refer to Engine and Transaxle Assembly - "Engine Room Under Cover") Drain the engine oil. (Refer to Lubrication System - "Engine Oil") Remove t
Description MAFS uses a hot-film type sensing element to measure the mass of intake air entering the engine, and send the signal to ECM. A large amount of intake air represents acceleration or high load conditions while a small amount of in