Hyundai Tucson: Purge Control Solenoid Valve (PCSV)
Description
Purge Control Solenoid Valve (PCSV) is a solenoid valve and is installed on the surge tank and controls the passage between the canister and the intake manifold.
The evaporative gases gathered in the canister are delivered to the intake manifold when the PCSV is open by ECM control signal.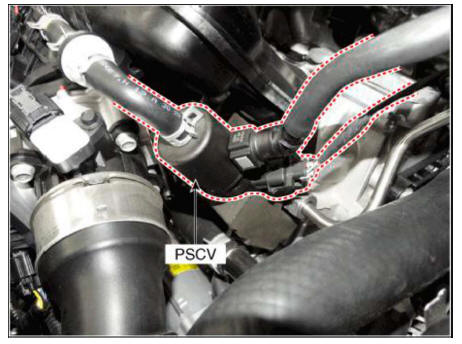 Specification

Circuit Diagram

Harness Connector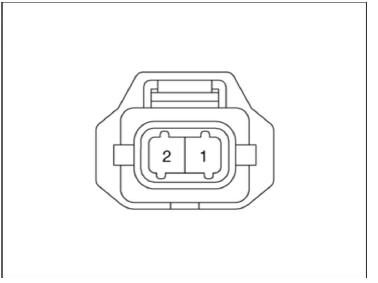 Inspection
Turn ignition switch OFF.
Disconnect PCSV connector.
Measure resistance between PCSV terminals 1 and 2.
Check that the resistance is within the specification.

Removal
Turn ignition switch OFF and disconnect the battery negative (-) terminal.
Disconnect the purge control solenoid valve connector (A).
Disconnect the vapor hoses (B).
Remove the purge control solenoid valve (C).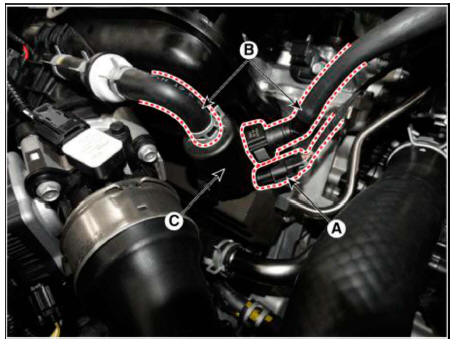 Installation
WARNING
Install the component with the specified torques.
Note that internal damage may occur when the component is dropped. In this case, use it after inspecting.
WARNING
Be careful of foreign material not to flow into the valve.
Install in the reverse order of removal.
READ NEXT:
Description CVVT (Continuous Variable Valve Timing) system advances or retards the valve opening and closing timing of the intake or the exhaust valve in accordance with the ECM control, calculated by the engine speed and the load. The CVVT co
Description Installed on the high pressure fuel pump, the Fuel Pressure Regulator Valve controls the fuel amount flowing into the injectors in accordance with the ECM signal calculated based on various engine conditions. Specification
SEE MORE:
Remove the transfer assembly. (Refer to 4 Wheel Drive (4WD) System - "Front Wheel Transfer Assembly") Remove the dust cover (A). Remove the oil seal #1 (A). Install the oil seal #1 (A) with a new one by using t
Intelligent Speed Limit Assist uses information from the detected road sign and navigation system to inform the driver of the speed limit and additional information of the current road. Also, Intelligent Speed Limit Assist helps the driver to m