Hyundai Tucson: Fuel Pressure Control Valve (FPCV)
Description
Installed on the high pressure fuel pump, the Fuel Pressure Regulator Valve controls the fuel amount flowing into the injectors in accordance with the ECM signal calculated based on various engine conditions.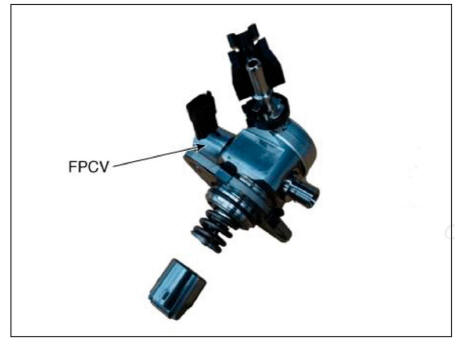 Specification

Circuit Diagram

Harness Connector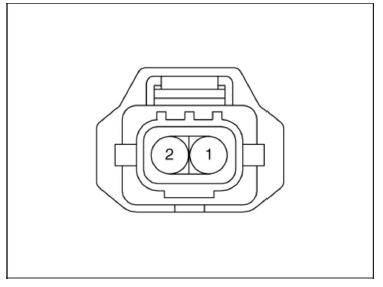 Inspection
Switch "OFF" the ignition and disconnect the negative (-) batteiy terminal.
Disconnect the fuel pressure regulator valve connector.
Measure resistance between the fuel pressure regulator valve terminals 1 and 2.
Check that the resistance is within the specification.
Specification : 0.53 - 0.58 20ºC (68ºF)
Removal
WARNING
The fuel pressure regulator valve cannot be replaced as a unit. Replace it as high pressure fuel pump assembly.

(Refer to Fuel Delivery System - "High Pressure Fuel Pump")
Installation
WARNING
The fuel pressure regulator valve cannot be replaced as a unit. Replace it as high pressure fuel pump assembly.

(Refer to Fuel Delivery System - "High Pressure Fuel Pump")
READ NEXT:
Desrcription The Electric Waste Gate Actuator(EWGA) is installed on the turbocharger. EWGA operates vain in west gate turbocharger and controls the compressed air by PWM signal of ECM. Specification EWGA Position Sensor integrated into EWGA
WARNING When replacing the Electric WGT Control Actuator, perform the rod adjustment procedure. When install the electric WGT control actuator, do not reuse a C-Ring. Install in the reverse order of removal. Adjustment Rod Adjus
SEE MORE:
Removal Remove the coupling assembly. (Refer to 4 Wheel Drive (4WD) System - "Direct Electro Hydraulic Actuator Coupling") Keep going perpendicular state after remove the coupling assembly. WARNING Keep going perpend
Installation To install, reverse the removal procedure. WARNING The existing O-rings (A) must be replaced with a new one. (Do not reuse it.) Perform the clutch compensation value setting procedure using the diagnostic tool after rep