Hyundai Tucson: Motor Driven Power Steering - Description
Description
MDPS (Motor Dirven Power Steering) system uses an electric motor to assist the steering force and it is an engine operation independent steering system.
MDPS control module controls the motor operation according to information received from the each sensor and CAN (Controller Area Network), resulting in a more precise and timely control of steering assist than conventional engine-driven hydraulic systems, MDPS system inspection is possible for each component, but replacement is possible only for partial units, and other parts should not be disassembled.
Schematic Diagrams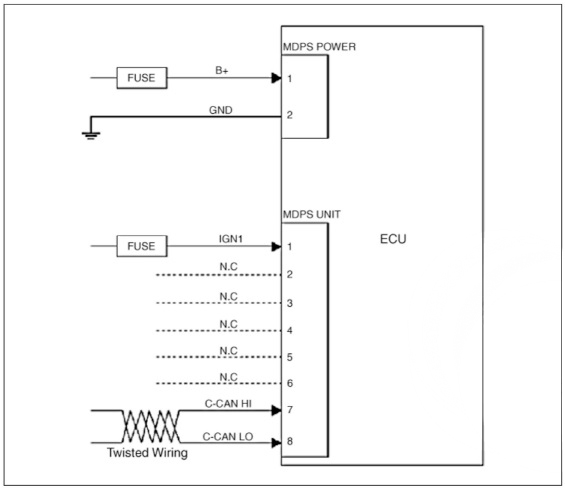 Harness Connector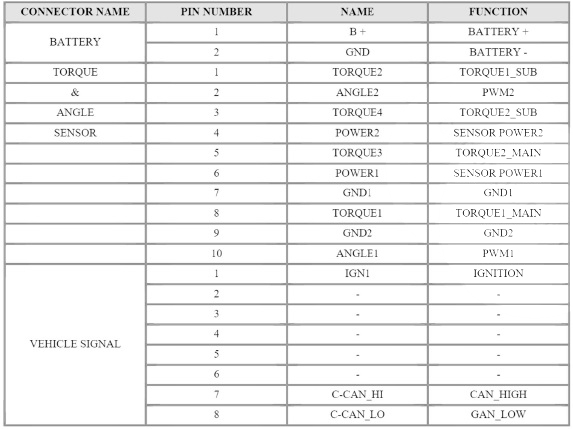 A/S Repair produres CMDPS
MDPS System A/ S Workflow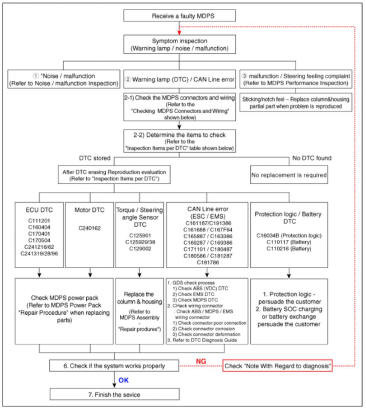 (1) Noise malfunction Inspection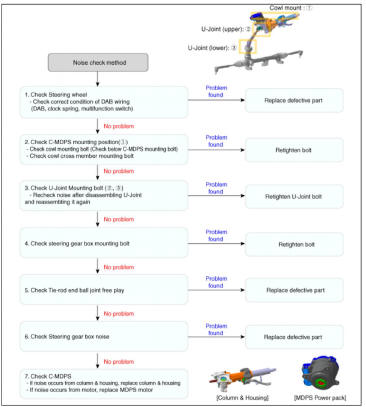 (2) Warning lamp (DTC) / CAN Line error
2 - 1 Checking Connectors and Wiring
Checking Connectors and Wiring.
Check for damage, push-back, or improper connection in each connector and wiring.
(1) Check the wiring on the vehicle side.
Check for open short - circuit due to faulty connection, damage, or foreign substance.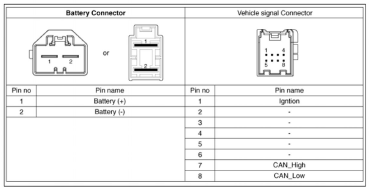 (2) Check the motor connector.
Terminal Expansion and damage
WARNING
If a problem such as terminal expansion or damage occurs during the wiring inspection process, be sure to replace :he MDPS power pack assembly.
(3) Check TAS side (A) and powerpack side (B) wiring.
Inspect each connector and wiring for damage, push backs, or incorrect connections.
WARNING
For DTC C125901 / C125929 / C125938 / C129002, replace the MDPS wiring.

(Refer to Motor Driven Power Steering (MDPS) - "MDPS Wiring")

If no problem is found during the MDPS wiring check, replace the MDPS column & housing.

(Refer to Motor Driven Power Steering (MDPS) - "MDPS Column & Housing")
2 - 2 Inspection Items per DTC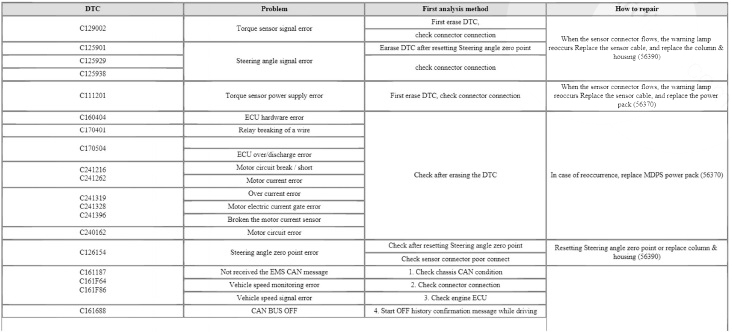 (3) MDPS Performance Inspection
This bulletin provides Motor Driven Power Steering (MDPS) diagnostic procedure using GDS to diagnose theheavy steering effort, abnormal position of steering parts and MIL illumination in steering system.
GDS judges the MDPS normal abnormal state by calculating the MDPS motor torque generated when turning the steering wheel to left and right at 360= per 3 seconds.
Connect self - diagnosis connector (16pins) located in the lower of driver side crash pad to self - diagnosis device.
Turn the self - diagnosis device after key is ON.
After Selectmg the "vehicle model" and "system", select the "MDPS TEST" on GDS vehicle selection screen.
Prepare a vehicle according to the required vehicle's conditions.
Search the DTCs relevant to the MDPS and then erase them if found.
Perform me MDPS TEST.
If the results of MDPS performance inspection are "OK": click "OK" and then finish the service work.
If the results of MDPS inspection are "Check", click "Inspection" and then inspect below items.
(1) MDPS Warning light illuminated
Inspect DTCs relevant to the steering system.
(2) Vibration and Noise
Inspect MDPS portions where are mounted to the body. (Checking tightenmg conditions of bolts and nuts)
Inspect universal joint mounting bolts.
(3) Inspection for heavy steering effort
Inspect tire pressure and width.
Check that the heavy steering effort occurs or not when vehicle speed is not received.
Check DTCs relevant to the CAN communication error.
(4) MDPS common problems




WARNING
Cautions to be taken when handling the MDPS (Motor Driven Power Steering)
Failure occurs due to internal damage because of the drop of and shock and excessive external force on the new partial component.
→ Be cautious of shock on the partial component and replace the damaged part (due to drop, etc.) with a new one.
When fastening the steering, excessive impact may result in twisting the center point of the torque sensor.
When removing installing the connector the wiring may be damaged (deformed) by excessive external force.
Be cautious when storing and replacing the partial components under the abnormal temperature and humidity conditions.
A S Repair Procedures RMDPS
READ NEXT:
R-MDPS Warning lamp Diagnosis Guide Inspection Items per DTC Checking Connectors and Wiring Checking Connectors and Wiring. Check for damage, push-back, or improper connection in each connector and wiring. (1) Check th
Replacement Turn the steering wheel so that the front wheels are placed in the straight ahead position. Turn the ignition switch OFF and disconnect the battery negative (-) cable. Remove the driver airbag (DAB). (Refer to Restraint -
WARNING When missing the EPS Type Recognition, occure a problem with motor driven power steering performance EPS Type Recognition procedures Connect self-diagnosis connector(16pins) located in the lower of driver side crash pad to self-dia
SEE MORE:
Removal and Installation Battery Pack Assembly Inlet Duct Turn the ignition switch OFF and disconnect the battery (-) terminal. Remove the luggage board (A). Separate the inlet cooling duct (A) in the direction of the arrow. Tigh
Turn ignition switch OFF and disconnect the negative (-) battery cable. Disconnect the ignition lock & clutch switch connector (A). Loosen the bolts (A) and then removing the ignition lock & clutch switch (B). Tightening