Hyundai Tucson: Column & Housing Noise Repair Guide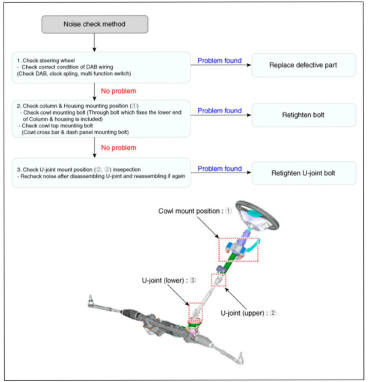 R-MDPS Warning lamp Diagnosis Guide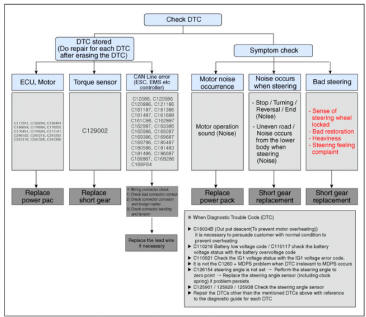 Inspection Items per DTC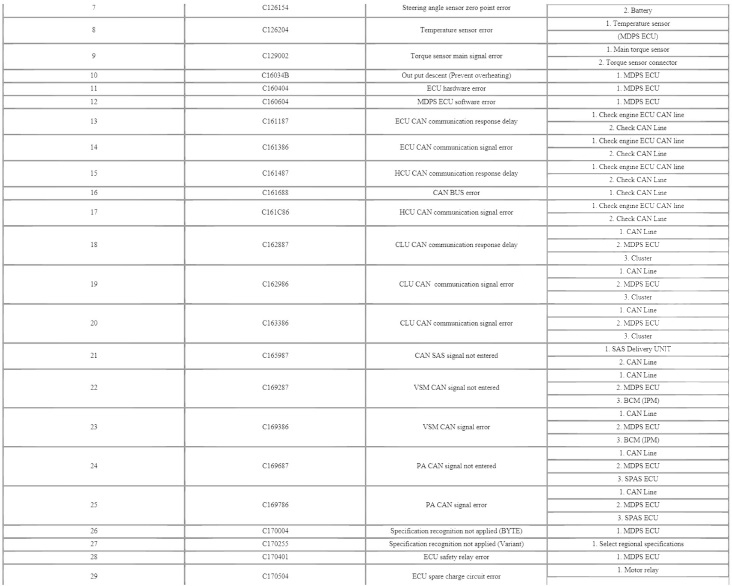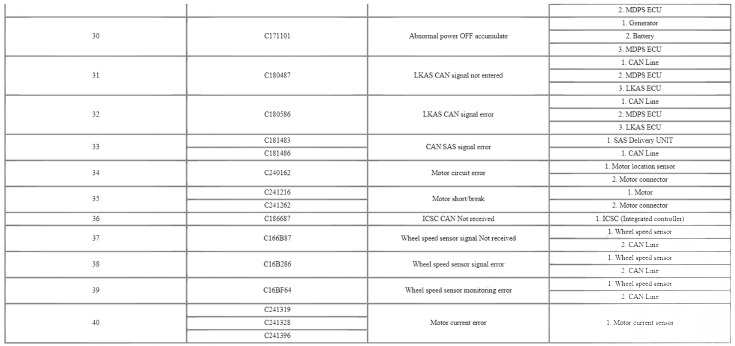 Checking Connectors and Wiring
Checking Connectors and Wiring.
Check for damage, push-back, or improper connection in each connector and wiring.
(1) Check the wiring on the vehicle side.
Check for open short - circuit due to fault},' connection, damage, or foreign substance.


WARNING
The following phenomena are not malfunctions when the MDPS warning lamp is not lit.
There is no auxiliary steering force temporarily during the MDPS system self-diagnosis time (about 2 seconds) immediately after the engine starts, but this is not a malfunction.
There is noise due to relay connection when the engine is on or off, but this is a normal operation sound.
There is noise caused by motor rotation when operating the steering wheel m a stationary or low-speed driving state, but this is a normal operating sound.
MDPS(Motor Driven Power Steering) Handling precautions
A failure may occur due to the internal damage when a new partial part is dropped, impacted or excessive external load is applied.
→ If a partial part is impacted or is dropped, replace it with a new part.
If excessive impact is applied when assembling the steering wheel, center point of the torque sensor may be warped.
→ Caution is needed when tightening by excessive impact.
Be careful for the damage to the wiring due to deformation, when detaching attaching the contactor or excessive external force is applied.
→ Excessive insertion of the connector or using after removal is prohibited.
Caution is needed for partial part storage and replacement work under abnormal condition of the temperature and humidity.
READ NEXT:
Replacement Turn the steering wheel so that the front wheels are placed in the straight ahead position. Turn the ignition switch OFF and disconnect the battery negative (-) cable. Remove the driver airbag (DAB). (Refer to Restraint -
WARNING When missing the EPS Type Recognition, occure a problem with motor driven power steering performance EPS Type Recognition procedures Connect self-diagnosis connector(16pins) located in the lower of driver side crash pad to self-dia
WARNING When lifting a vehicle using a lift, be careful not to damage the lower parts of the vehicle (floor under cover, fuel filter, fuel tank, canister). (Refer to General Information - "Lift Point") Loosen the front wheel nuts
SEE MORE:
Lane Following Assist is designed to help detect lane markings and/or vehicles on the road, and assists the driver's steering to help center the vehicle in the lane. Detecting sensor [1] : Front view camera The front view camera is used as
Disconnect the battery negative terminal. Remove the engine cover. (Refer to Engine and Transaxle Assembly - "Engine Cover") Remove the air duct and air cleaner assembly. (Refer to Intake and Exhaust System - "Air Cleane