Hyundai Tucson: Accelerator Position Sensor (APS)
Description
Accelerator Position Sensor (APS) is installed on the accelerator pedal module and detects the rotation angle of the accelerator pedal. The APS is one of the most important sensors in engine control system, so it consists of the two sensors which adapt individual sensor power and ground line. The second sensor monitors the first sensor and its output voltage is half of the first one. If the ratio of the sensor 1 and 2 is out of the range (approximately 1/2), the diagnostic system judges that it is abnormal.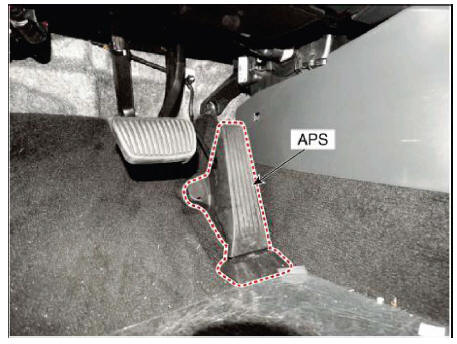 Specification

Circuit Diagram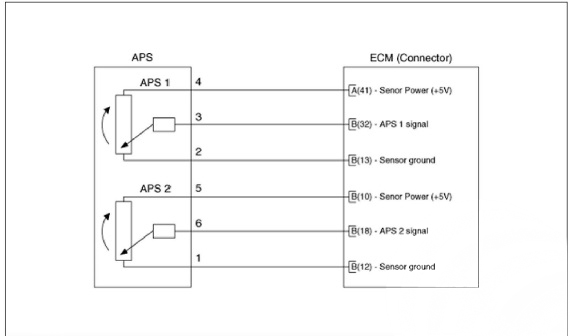 Harness Connector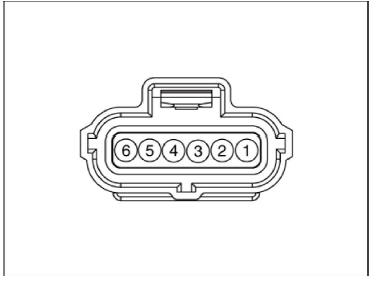 Inspection
Connect the diagnostic tool on the Data Link Connector (DLC).
Switch "ON" the ignition.
Measure the output voltage of the APS 3 and 6 at C.T and W.O.T.
Specification : Refer to "Specification"
READ NEXT:
Description It generates the oil pressure and temperature information (output voltage) to control the pump operation proportional control valve in variable oil pump system. It measures the oil pressure and temperature discharged from the oil p
Description Installed on the delivery pipe, the Rail Pressure Sensor (RPS) measures the instantaneous fuel pressure in the delivery pipe. The sensing element (Semiconductor element) built in the sensor converts the pressure to voltage signal.
SEE MORE:
Rear Occupant Alert is provided to prevent a driver from leaving a vehicle with a rear passenger left in the vehicle. System setting To use Rear Occupant Alert, it must be enabled from the Settings menu in the infotainment system screen. Select
Idle Stop and Go helps reduce fuel consumption by automatically shutting down the engine, when the vehicle is at a standstill (i.e. red stop light, stop sign, and traffic jam) subject to certain prerequisite conditions being satisfied as listed