Hyundai Tucson: Side View mirrors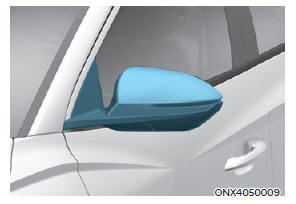 Your vehicle is equipped with both lefthand and right-hand side view mirrors.
The mirrors can be adjusted remotely with the mirror adjustment control switch. The side view mirrors can be folded manually to help prevent damage when going through an automatic car wash or when passing through a narrow street.
The right side view mirror is convex.
Objects seen in the mirror are closer than they appear.
Use the inside rear view mirror or look back directly to determine the actual distance of other vehicles prior to changing lanes.
Make sure to adjust the side view mirrors to your desired position before you begin driving.
WARNING
Do not adjust or fold the side view mirrors while driving. This may cause loss of vehicle control resulting in an accident.
NOTICE
Do not scrape ice off the mirror face; this may damage the surface of the glass.
If the mirror is jammed with ice, do not adjust the mirror by force. Use an approved spray de-icer (not radiator antifreeze) spray, or a sponge or soft cloth with very warm water, or move the vehicle to a warm place and allow the ice to melt.
Do not clean the mirror with harsh abrasives, fuel or other petroleum based cleaning products.
Adjusting the side view mirrors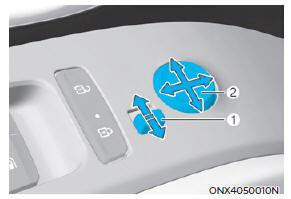 Move the lever (1) either to the L (left side) or R (right side) to select the side view mirror you would like to adjust.
Use the mirror adjustment control (2) to position the selected mirror up, down, left or right.
After adjustment, move the lever (1) to the middle to prevent inadvertent adjustment.
Folding the side view mirror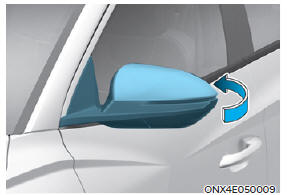 To fold the side view mirror, grasp the housing of the mirror and then fold it toward the rear of the vehicle.
READ NEXT:
Driver's door power window switch Front passenger's door power window switch Rear door (left) power window switch Rear door (right) power window switch Window opening and closing Automatic power window* Power window lock switch
If your vehicle is equipped with a sunroof, you can slide or tilt your sunroof with the sunroof switch located on the overhead console. The sunroof can only be operated when the ignition switch or Engine Start/Stop button is in the ON or ST
SEE MORE:
Shift to P This message is displayed if you try to turn off the vehicle without the gear in the P (Park) position. If this occurs, the Engine Start/Stop button turns to the ACC position. Low key battery When the Engine Start/Stop button is
Two labels on your driver's door sill show how much weight your vehicle was designed to carry: the Tire and Loading Information Label and the Certification Label. Before loading your vehicle, familiarize yourself with the following terms for