Hyundai Tucson: Electric Exhaust Gas Re-circulation (EEGR) Control Valve
Description
The Electric EGR Control Valve is installed in between the EGR cooler and the exhaust line and is a solenoid valve. This valve controls EGR (Exhaust Gas Recirculation) amount by the ECM's duty control signal depending on engine load and the need of intake air.
The Exhaust Gas Recirculation (EGR) system is used to add the exhaust gas to intake air in order to reduce an excess of air and the temperature in the combustion chamber.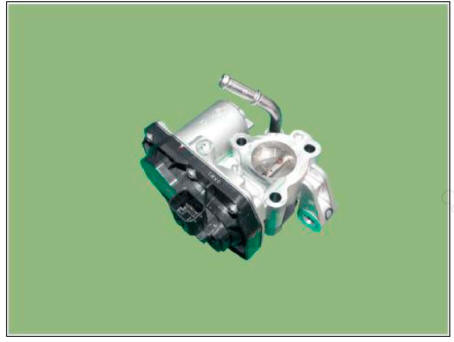 Specification
Motor

Position Sensor

Circuit Diagram
Harness Connector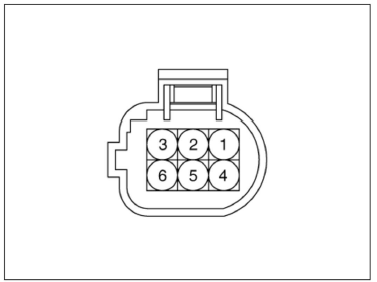 Inspection
Motor
Turn the ignition switch OFF.
Disconnect the EEGR valve connector.
Check that the EEGR valve is stuck by foreign material.
Measure resistance between motor 4 and 5 control terminals of the motor.
Check that the resistance is within the specification

Feedback Position Sensor
Connect the diagnostic tool to the data link connector.
Perform the fully open and the fully closing operation of the EEGR valve by using the actuation test.
Check that the voltage is within the specification.

Removal
Turn the ignition switcg OFF, and disconnect the batteiy negative (-) terminal.
Remove the EGR cooler.
(Refer to Engine Mechanical System - "EGR Cooler")
Remove the EEGR control valve after loosening the mounting bolt (A).
Tightening Torque : 18.6 - 23.5 N.m (1.9 - 2.4 kgf.m, 13.7 - 17.3 lb-ft)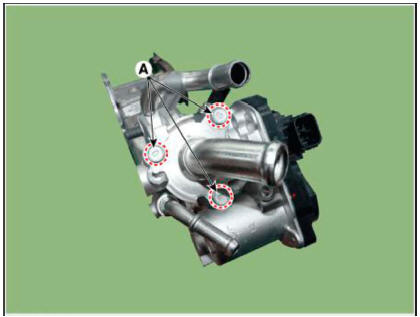 Installation
WARNING
Install the component with the specified torques.
Note that internal damage may occur when the component is dropped. In this case, use it after inspecting.
Use care to keep foreign material out of the component.
Install in the reverse order of removal.
READ NEXT:
Description Integrated Thermal Management Module (ITM) is a device that controls the coolant flow rate according to coolant temperature. At initial startup, the ITM quickly warms up the engine by controlling the flow of the coolant and this fas
Description CVVD(Continuous Variable Valve Duration) System is a device to control the optimum open and close timing according to the driving mode by changing the valve opening section. CVVD Actuator Specification Circuit Diagram
SEE MORE:
Front cable Disconnect the (-) batteiy terminal. Release the parking brake. Remove the crash pad lower panel. (Refer to Body - "Crash Pad Lower Panel") Remove the Integrated Central Control Unit (ICU). (Refer to Body Elect
Components Lower cover Haptic motorr Paddle shift Steering Wheel Remote control switch Switch bezel Wiring Drive airbas module (DAB) Removal Turn the steering wheel so that the front wheels can face straight ahead. Turn