Hyundai Tucson: Automatic heating and air conditioning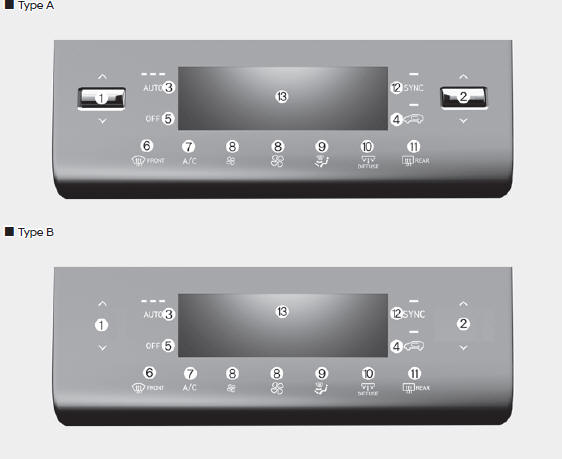 Driver's temperature control button/ knob
Passenger's temperature control button/knob
AUTO (automatic control) button
Air intake control button
OFF button
Front windshield defroster button
A/C (air conditioning) button
Fan speed control button
Mode selection button
Multi Air Mode button
Rear window defroster button
SYNC button
Climate control information screen
The Automatic Climate Control System is controlled by setting the desired temperature.
Press the AUTO button.
The modes, fan speeds, air intake and air-conditioning will be controlled automatically by the temperature setting you select.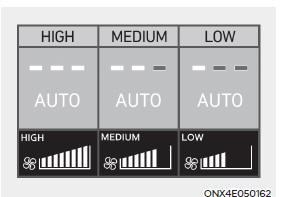 You can control the fan speed in three stages by pushing the AUTO button during automatic operation.
HIGH : Provide rapid air conditioning and heating with maximum fan speed setting
MEDIUM : Provide air conditioning and heating with mid-level fan speed setting
LOW : Fan speed is set to the lowest setting range (1 to 3 bars range)
Turn the temperature control button/ knob to set the desired temperature.

If the temperature is set to the lowest setting (Lo), the air conditioning system will operate continuously.

After the interior has cooled sufficiently, adjust the button/knob to a higher temperature set point whenever possible.
To turn the automatic operation off, select any button of the following:
Mode selection button
Front windshield defroster button (Press the button one more time to deselect the front windshield defroster function. The 'AUTO' sign will illuminate on the information display once again.)
Fan speed control button The selected function will be controlled manually while other functions operate automatically.
For your convenience and to improve the effectiveness of the climate control, use the AUTO button and set the temperature to 72ºF (22ºC).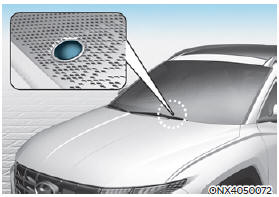 Information
Never place anything near the sensor to ensure better control of the heating and cooling system.
READ NEXT:
Start the engine. Set the mode to the desired position. For improving the effectiveness of heating and cooling, select: Heating: Cooling: Set the temperature control to the desired position. Set the air intake contr
Multi Air Mode (if equipped) When the Multi-Air mode button is pressed, air flow is directed to the face level and floor level and through perforated sections along the instrument panel for the driver and passenger. The multi-air mode L
Cabin air filter [A] : Outside air, [B] : Recirculated air [C] : Cabin air filter, [D] : Blower [E] : Evaporator core, [F] : Heater core The cabin air filter is installed behind the glove box. It filters the dust or other pollutants that en
SEE MORE:
Description Crankshaft Position Sensor (CKPS) detects the crankshaft position and is one of the most important sensors of the engine control system. If there is no CKPS signal input, fuel is not supplied.That is, vehicle can't run without
Troubleshooting Specifications Tightening Torque Special Service Tools