Hyundai Tucson: Evaporative Emission Control System - Description
Description
The Evaporative Emission Control System prevents fuel vapor stored in fuel tank from vaporizing into the atmosphere. When the fuel evaporates in the fuel tank, the vapor passes through vent hoses or tubes to a canister filled with charcoal.
The canister temporarily holds the vapor in the charcoal. The ECM will control the system in order to draw the gathered vapor into the combustion chambers during certain operating conditions. Engine manifold vacuum is used to draw the vapor into intake manifold.
Schematic Diagram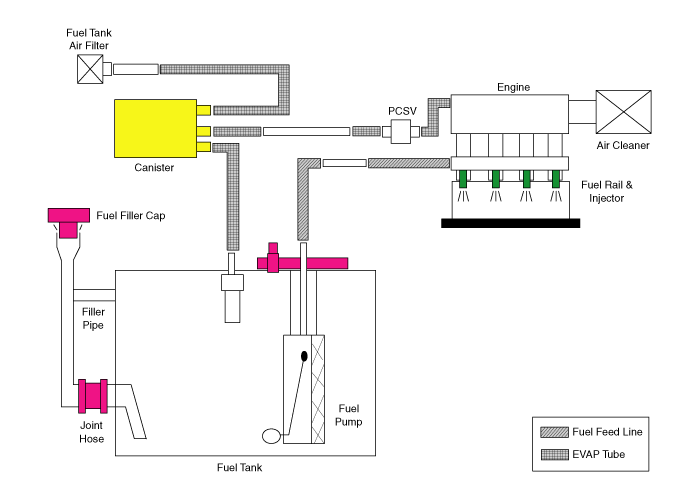 Canister
The Canister is filled with charcoal and absorbs evaporated fuel vapor from the fuel tank. The gathered fuel vapor in canister is drawn into the intake manifold by the ECM/PCM when appropriate conditions are set.
Purge Control Solenoid Valve (PCSV)
The Purge control solenoid valve (PCSV) is installed in the passage connecting the canister to the intake manifold. It is a duty type solenoid valve and is operated by ECM/PCM signal.
To draw the absorbed vapor into the intake manifold, the ECM/PCM will open the PCSV, otherwise the passage remains closed.
Fuel Filler Cap
A ratchet tightening device in the threaded fuel filler cap reduces the chances of incorrect installation, when sealing the fuel filler. After the gasket on the fuel filler cap and the fill neck flange make contact, the ratchet produces a loud clicking noise indicating the seal has been set.
READ NEXT:
Removal WARNING Be careful not to damage the parts located under the vehicle (floor under cover, canister, fuel tank) when raising the vehicle using the lift. (Refer to General Information - "Lift and Support Points") Turn
Install in the reverse order of removal. Inspection Check for the following items visually. Cracks or leakage of the canister Loose connection, distortion, or damage of the vapor hose/tube Canister→ Atmosphere Canister →
SEE MORE:
4.2-inch "10.25-inch The actual cluster in the vehicle may differ from the illustration. For more information, refer to "Gauges and meters" section in this chapter. Tachometer Speedometer Engine coolant temperature gauge Fuel
Make sure that the ignition switch and all accessories are in the OFF position. Disconnect the battery cables (negative first). Remove the battery from the vehicle. WARNING Care should be taken in the event the battery case is cracked o