Hyundai Tucson: Vehicle Information, Consumer Information and Reporting Safety Defects
Exterior overview (I)
Front view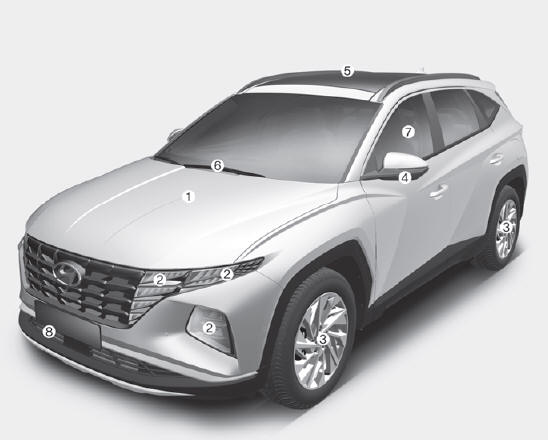 The actual shape may differ from the illustration
Hood
Headlamp
Tires and wheels
Side view mirror
Panoramic sunroof
Front windshield wiper blades
Windows
Front radar
Exterior overview (II)
Rear view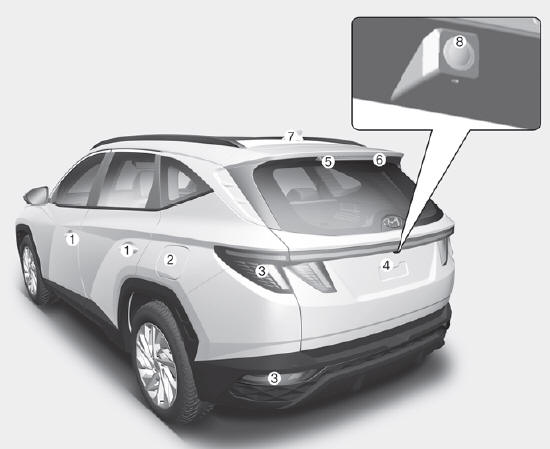 The actual shape may differ from the illustration
Door Handle
Fuel filler door
Rear combination lamp
Liftgate
High mounted stop lamp
Rear window wiper blades
Antenna
Rear view camera
Interior overview
Type A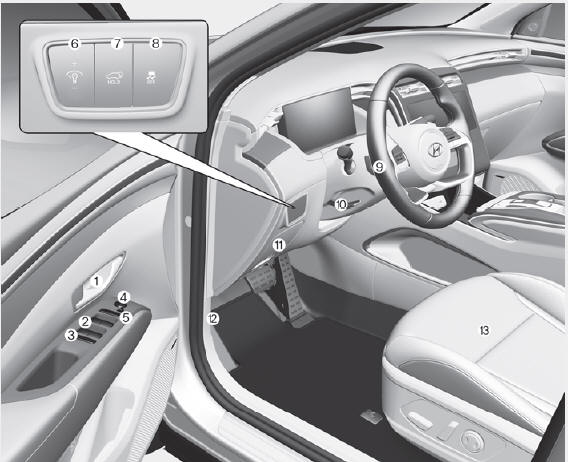 The actual shape may differ from the illustration
Inside door handle
Power window switches
Power window lock button
Outside rearview mirror control switch
Driver door lock switch
Instrument panel illumination control switch
Power liftgate button
ESC OFF button
Steering wheel
Steering wheel tilt/telescopic lever
Fuse box
Hood release lever
Seat
Type B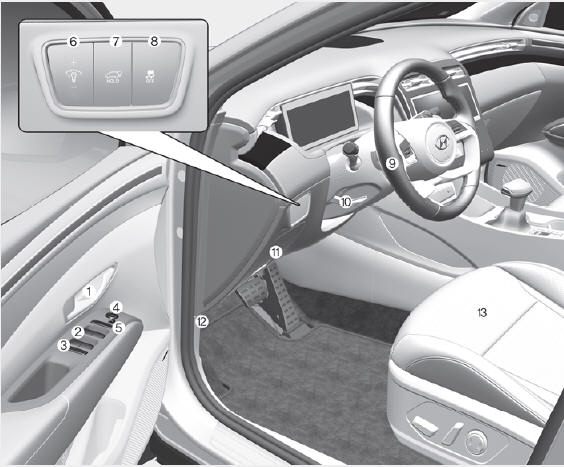 Inside door handle
Power window switches
Power window lock button
Outside rearview mirror control switch
Driver door lock switch
Instrument panel illumination control switch
Power liftgate button
ESC OFF button
Steering wheel
Steering wheel tilt/telescopic lever
Fuse box
Hood release lever
Seat
Instrument panel overview (I)
Type A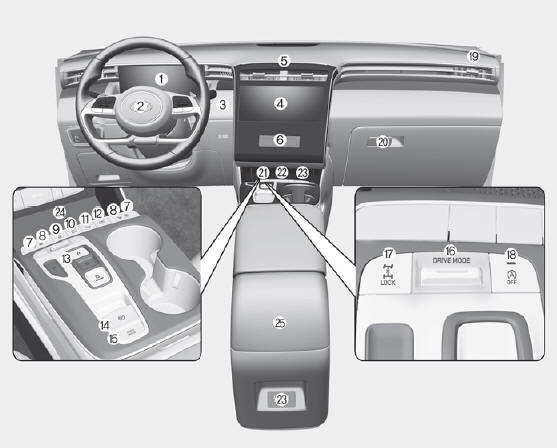 Instrument cluster
Driver's front air bag
Engine Start/Stop button
Infotainment system
Hazard warning lamp switch
Climate control system
Air ventilation seat
Seat warmer
Heated steering wheel
DBC button
Parking Safety button
Parking/View button
Transmission shift button
EPB (Electronic Parking Brake) switch
Auto Hold switch
Drive mode button
AWD lock button
ISG (Idle Stop and Go) OFF button
Passenger's front air bag
Glove box
USB port
Power outlet
USB charger
Wireless charging system pad
Type B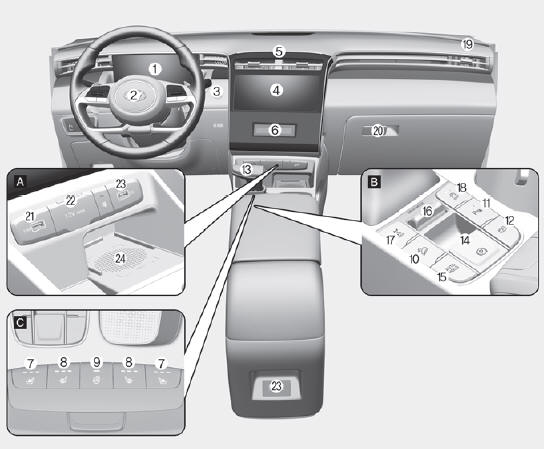 Instrument cluster
Driver's front air bag
Engine Start/Stop button
Infotainment system
Hazard warning lamp switch
Climate control system
Air ventilation seat
Seat warmer
Heated steering wheel
DBC button
Parking Safety button
Parking/View button
Transmission shift lever
EPB (Electronic Parking Brake) switch
Auto Hold switch
Drive mode button
AWD lock button
ISG (Idle Stop and Go) OFF button
Passenger's front air bag
Glove box
USB port
Power outlet
USB charger
Wireless charging system pad
Instrument panel overview (II)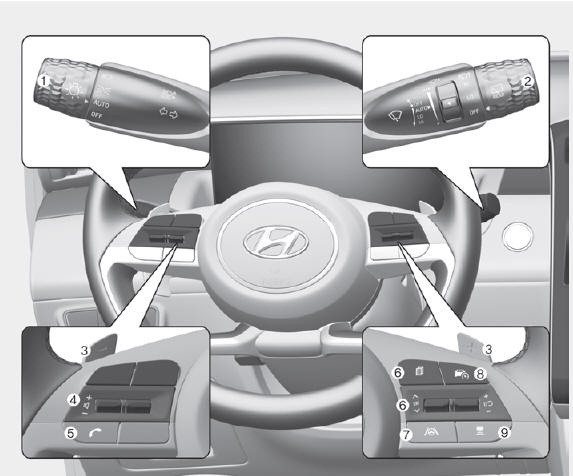 Lighting control lever
Wiper and washer control lever
Paddle shifter
Audio remote control buttons
Bluetooth hands-free phone button
LCD display control
Lane Driving Assist button
Driving Assist button
Vehicle Distance button
Engine compartment
Smartstream G2.5 GDI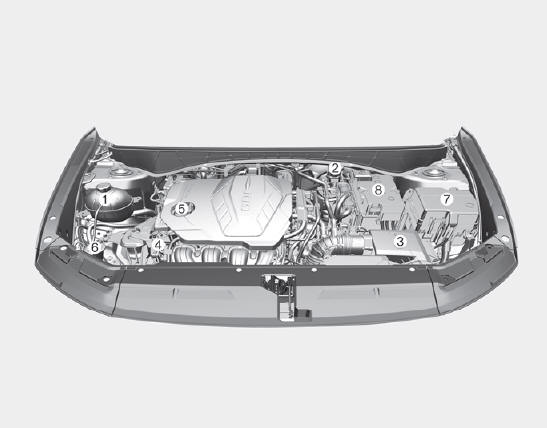 The actual engine compartment in the vehicle may differ from the illustration
Engine coolant reservoir
Brake fluid reservoir
Air cleaner
Engine oil dipstick
Engine oil filler cap
Windshield washer fluid reservoir
Fuse box
Battery
Dimensions

Engine
Bulb wattage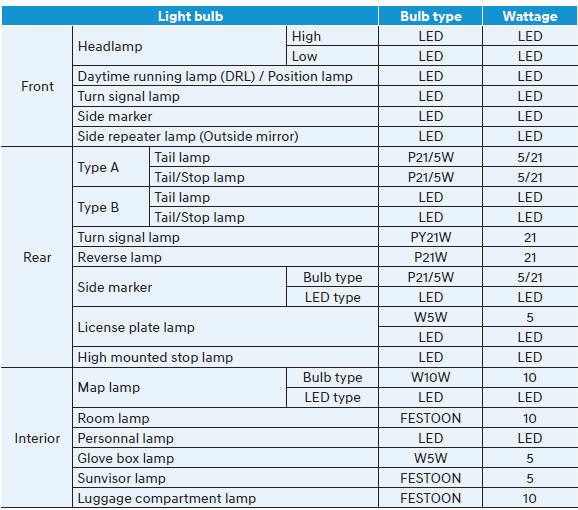 Tires and wheels

NOTICE
It is permissible to add 3 psi to the standard tire pressure specification if colder temperatures are expected soon.

Tires typically lose 1psi (7kPa) for every 12ºF temperature drop. If extreme temperature variations are expected, recheck your tire pressure as necessary to keep them properly inflated.

Tire inflation pressures will vary with changes in elevation. If driving in areas of higher or lower elevation, be sure to check and adjust for proper tire inflation.
CAUTION
When replacing tires, use the same size originally supplied with the vehicle.

Using tires of a different size can damage the related parts or not work properly.

When replacing tires, ALWAYS use the same size, type, construction and tread pattern supplied with the vehicle for all tires.
Air conditioning system

Contact an authorized HYUNDAI dealer for more details.
Volume and weight

Recommended lubricants and capacities
To help achieve proper engine and powertrain performance and durability, use only lubricants of the proper quality. The correct lubricants also help promote engine efficiency that results in improved fuel economy.
These lubricants and fluids are recommended for use in your vehicle.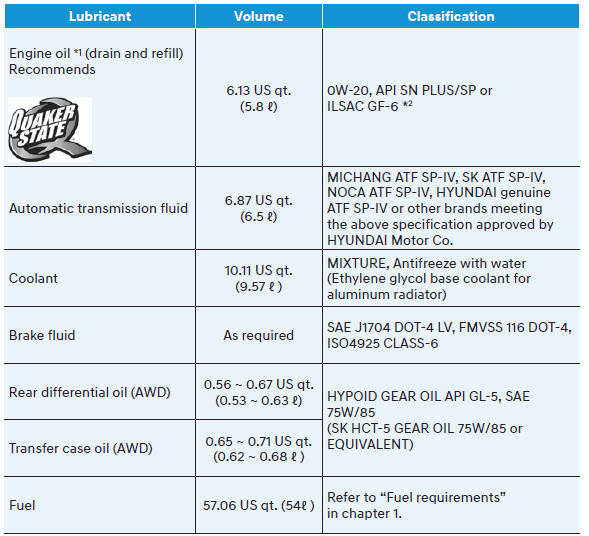 *1 : Refer to the recommended SAE viscosity numbers.
*2 : Requires <API Latest (or ILSAC Latest) Full synthetic> grade engine oil. If a lower grade engine oil (mineral oil including Semi-synthetic) is used, then the engine oil and engine oil filter must be replaced as indicated severe maintenance condition.
Recommended SAE viscosity number
CAUTION
Always be sure to clean the area around any filler plug, drain plug, or dipstick before checking or draining any lubricant. This is especially important in dusty or sandy areas and when the vehicle is used on unpaved roads. Cleaning the plug and dipstick areas will prevent dirt and grit from entering the engine and other mechanisms that could be damaged.
Engine oil viscosity (thickness) has an effect on fuel economy and cold weather operating (engine start and engine oil flowability). Lower viscosity engine oils can provide better fuel economy and cold weather performance, however, higher viscosity engine oils are required for satisfactory lubrication in hot weather. Using oils of any viscosity other than those recommended could result in engine damage.
When choosing an oil, consider the range of temperature your vehicle will be operated in before the next oil change. Proceed to select the recommended oil viscosity from the chart.

*1 : Requires <API SN PLUS (or above) Full synthetic> grade engine oil. If a lower grade engine oil (mineral oil including Semi-synthetic) is used, then the engine oil and engine oil filter must be replaced as indicated for severe maintenance condition.

An engine oil displaying this API Certification Mark conforms to the international Lubricant Specification Advisory Committee (ILSAC). It is recommended to only use engine oils that uphold this API Certification Mark.
Vehicle Identification Number (VIN)
Frame number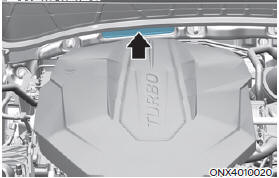 The vehicle identification number (VIN) is the number used in registering your vehicle and in all legal matters pertaining to its ownership, etc.
The number is punched on the body panel between the engine and the interior of the vehicle.
VIN label (if equipped)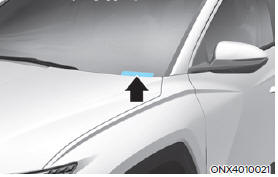 The VIN is also on a plate attached to the top of the left side dashboard. The number on the plate can easily be seen through the windshield from outside.
Vehicle certification label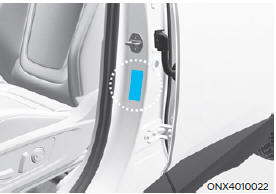 The vehicle certification label attached on the driver's (or front passenger's) side center pillar gives the vehicle identification number (VIN).
Tire specification and pressure label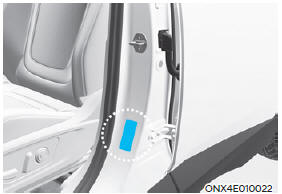 The tires supplied on your new vehicle are chosen to provide the best performance for normal driving.
The tire label located on the driver's side center pillar gives the tire pressures recommended for your vehicle.
Engine number
Smartstream G2.5 GDI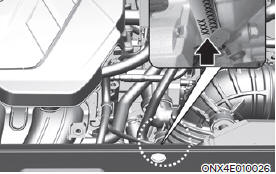 The engine number is stamped on the engine block as shown in the drawing.
Refrigerant label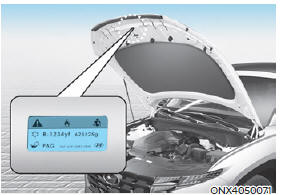 The refrigerant label provides information such as refrigerant type and amount. (R-1234yf)
Consumer Information
This consumer information has been prepared in accordance with regulations issued by the National Highway Traffic Safety Administration of the U.S. Department of Transportation. Your HYUNDAI dealer will help answer any questions you may have as you read this information.
HYUNDAI motor vehicles are designed and manufactured to meet or exceed all applicable safety standards.
For your safety, however, we strongly urge you to read and follow all directions in this Owner's Manual, particularly the information under the headings "NOTICE", "CAUTION" and "WARNING".
READ NEXT:
This chapter provides you with important information about how to protect yourself and your passengers. It explains how to properly use your seats and seat belts, and how your air bags work. Additionally, this chapter explains how to properly
The information provided may differ depending on which functions are applicable to your vehicle. Front seat Forward and rearward Seatback angle Seat cushion angle* Seat cushion height Lumbar support (Driver's seat)* Seat warmer* A
SEE MORE:
Inspection Measure the output voltage between the terminal of the wheel speed sensor and the body ground. WARNING In order to protect the wheel speed sensor, when measuring output voltage, a 100Q resister must be used as shown. C
Troubleshooting Specifications Tightening torque Special Service Tools Tool (Number and Name)/ Illustration/ Use 09568-1S100 Ball joint remover/ / Removal of the tie rod end ball joint. 09568-4R100 Lower arm ball j