Hyundai Tucson: Snow or icy conditions
The severe weather conditions of winter quickly wear out tires and cause other problems. To minimize winter driving problems, you should take the following suggestions:
You need to keep sufficient distance between your vehicle and the vehicle in front of you.
Apply the brakes gently. Speeding, rapid acceleration, sudden brake applications, and sharp turns are potentially very hazardous practices. During deceleration, use engine braking to the fullest extent. Sudden brake applications on snowy or icy roads may cause the vehicle to skid.
To drive your vehicle in deep snow, it may be necessary to use snow tires or to install tire chains on your tires.
Always carry emergency equipment.
Some of the items you may want to carry include tire chains, tow straps or chains, a flashlight, emergency flares, sand, a shovel, jumper cables, a window scraper, gloves, ground cloth, coveralls, a blanket, etc.
Snow tires
WARNING
Snow tires should be equivalent in size and type to the vehicle's standard tires.
Otherwise, the safety and handling of your vehicle may be adversely affected.
We recommend that you use snow tires when road temperature is below 45ºF (7ºC). Refer to the below chart, and mount the recommended snow tire for your vehicle.
If you mount snow tires on your vehicle, make sure to use the same Inflation pressure as the original tires. Mount snow tires on all four wheels to balance your vehicle's handling in all weather conditions. The traction provided by snow tires on dry roads may not be as high as your vehicle's original equipment tires. Check with the tire dealer for maximum speed recommendations.
Tire chains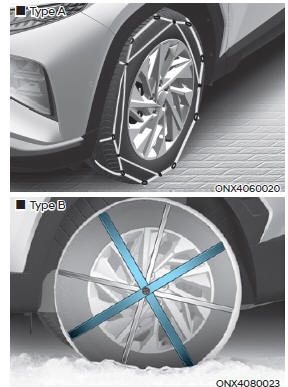 Since the sidewalls of radial tires are thinner than other types of tires, they may be damaged by mounting some types of tire chains on them. Therefore, the use of snow tires is recommended instead of tire chains. If tire chains must be used, use genuine HYUNDAI Parts and install the tire chain after reviewing the instructions provided with the tire chains. Damage to your vehicle caused by improper tire chain use is not covered by your vehicle manufacturer's warranty.

When using tire chains, attach them to the drive wheels as follows.
2WD : Front wheels
AWD : All four wheels
If a full set of chains is not available for an AWD vehicle, chains may be installed on the front wheels only.
WARNING
The use of tire chains may adversely affect vehicle handling:
Drive less than 20 mph (30 km/h) or the chain manufacturer's recommended speed limit, whichever is lower.
Drive carefully and avoid bumps, holes, sharp turns, and other road hazards, which may cause the vehicle to bounce.
Avoid sharp turns or locked wheel braking.
Information
Install tire chains only in pairs and on the front tires. It should be noted that installing tire chains on the tires will provide a greater driving force, but will not prevent side skids.
Do not install studded tires without first checking local and municipal regulations for possible restrictions against their use.
Chain Installation
When installing tire chains, follow the manufacturer's instructions and mount them as tightly possible. Drive slowly (less than 20 mph (30 km/h)) with chains installed. If you hear the chains contacting the body or chassis, stop and tighten them. If they still make contact, slow down until the noise stops. Remove the tire chains as soon as you begin driving on cleared roads.
When mounting snow chains, park the vehicle on level ground away from traffic.
Turn on the vehicle Hazard Warning Flasher and place a triangular emergency warning device behind the vehicle (if available). Always place the vehicle in P (Park), apply the parking brake and turn off the engine before installing snow chains.
NOTICE
When using tire chains:
Wrong size chains or improperly installed chains can damage your vehicle's brake lines, suspension, body and wheels.
Use SAE "S" class or wire chains.
If you hear noise caused by chains contacting the body, retighten the chain to prevent contact with the vehicle body.
To prevent body damage, retighten the chains after driving 0.3~0.6 miles (0.5~1.0 km).
Do not use tire chains on vehicles equipped with aluminum wheels. If unavoidable, use a wire type chain.
Use wire chains less than 0.47 in.(12mm) thick to prevent damage to the chain's connection.
READ NEXT:
Use high quality ethylene glycol coolant Your vehicle is delivered with high quality ethylene glycol coolant in the cooling system. It is the only type of coolant that should be used because it helps prevent corrosion in the cooling system, lub
If you are considering towing with your vehicle, be sure to take extra precautions while driving. Only experienced drivers should consider towing. Plan your trip accordingly as vehicle speed limits for vehicles towing trailers may be different.
Hitches Information The mounting hole for hitches are located on both sides of the underbody behind the rear tires. It's important to have the correct hitch equipment. Crosswinds, large trucks going by, and rough roads are a few reasons why
SEE MORE:
Idle Stop and Go helps reduce fuel consumption by automatically shutting down the engine, when the vehicle is at a standstill (i.e. red stop light, stop sign, and traffic jam) subject to certain prerequisite conditions being satisfied as listed
Symptom- Engine misfire with abnormal internal lower engine noises. Suspect area/ Remedy Loose or improperly installed drive plate(or fly wheel)./ Repair or replace the drive plate(or fly wheel) as required. Worn piston rings. (