Hyundai Tucson: Trailer towing
If you are considering towing with your vehicle, be sure to take extra precautions while driving. Only experienced drivers should consider towing. Plan your trip accordingly as vehicle speed limits for vehicles towing trailers may be different.
Always follow posted speed limits for vehicles towing with trailers.
Remember that trailering is different than just driving your vehicle by itself. Trailering means changes in handling, durability, and fuel economy.
Successful, safe trailering requires correct equipment, and it has to be used properly. Damage to your vehicle caused by improper trailer towing is not covered by your vehicle manufacturer's warranty.
This section contains time-tested, important trailering tips and safety rules. Many of these are important for your safety and that of your passengers.
Please read this section carefully before you pull a trailer.
WARNING
Take the following precautions:
If you don't use the correct equipment and/or drive improperly, you can lose control of the vehicle when you are pulling a trailer. For example, if the trailer is too heavy, the braking performance may be reduced. You and your passengers could be seriously or fatally injured.

Pull a trailer only if you have followed all the steps in this section.

Before towing, make sure the total trailer weight, GCW (Gross Combination Weight), GVW (Gross Vehicle Weight), GAW (Gross Axle Weight) and trailer tongue load are all within the limits.
When you tow a trailer, make sure to turn off the Idle Stop and Go system.
If you decide to pull a trailer?
Here are some important points if you decide to pull a trailer:
Consider using a sway control. You can ask a trailer hitch dealer about sway control.
Do not do any towing with your vehicle during its first 1,200 miles (2,000 km) in order to allow the engine to properly break in. Failure to heed this caution may result in serious engine or transmission damage.
When towing a trailer, we recommend that you consult an authorized HYUNDAI dealer for further information on additional requirements such as a towing kit, etc.
Always drive your vehicle at a moderate speed (less than 60 mph (100 km/h)) or posted towing speed limit.
On a long uphill grade, do not exceed 45 mph (70 km/h) or the posted towing speed limit, whichever is lower.
Carefully observe the weight and load limits provided in the following pages.
Trailer weight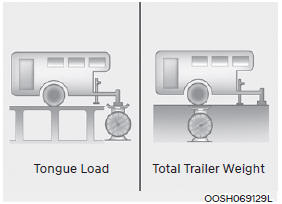 What is the maximum safe weight of a trailer? It should never weigh more than the maximum trailer weight with trailer brakes. But even that can be too heavy.
It depends on how you plan to use your trailer. For example, speed, altitude, road grades, outside temperature and how often your vehicle is used to pull a trailer are all important. The ideal trailer weight can also depend on any special equipment that you have on your vehicle.
Tongue load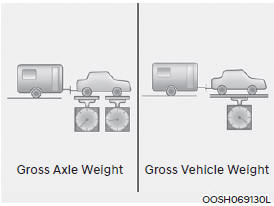 The tongue load is an important weight to measure because it affects the total Gross Vehicle Weight (GVW) of your vehicle. The trailer tongue should weigh a maximum of 10% of the total loaded trailer weight, within the limits of the maximum trailer tongue load permissible.
After you've loaded your trailer, weigh the trailer and then the tongue, separately, to see if the weights are proper. If they aren't, you may be able to correct them simply by moving some items around in the trailer.
WARNING
Take the following precautions:
Never load a trailer with more weight in the rear than in the front. The front should be loaded with approximately 60% of the total trailer load; the rear should be loaded with approximately 40% of the total trailer load.
Never exceed the maximum weight limits of the trailer or trailer towing equipment. Improper loading can result in damage to your vehicle and/ or personal injury. Check weights and loading at a commercial scale or highway patrol office equipped with scales.
Information
With increasing altitude the engine performance decreases. From 1,000 m above sea level and for every 1,000 m thereafter 10% of vehicle/trailer weight (trailer weighter + gross vehicle weight) must be deducted.
Reference weight and distance when towing a trailer

READ NEXT:
Hitches Information The mounting hole for hitches are located on both sides of the underbody behind the rear tires. It's important to have the correct hitch equipment. Crosswinds, large trucks going by, and rough roads are a few reasons why
Towing a trailer requires a certain amount of experience. Before setting out for the open road, you must get to know your trailer. Acquaint yourself with the feel of handling and braking with the added weight of the trailer. And always keep in
Two labels on your driver's door sill show how much weight your vehicle was designed to carry: the Tire and Loading Information Label and the Certification Label. Before loading your vehicle, familiarize yourself with the following terms for
SEE MORE:
Components Location Crankcase Pressure Regulating Valve (PRV) Purge Control Solenoid Valve (PCSV) Canister Fuel Tank Air Filter GPF (Gasoline Particulate Filter) Catalytic Converter (WCC) 1. Crankcase Pressure Regulating Valve (P
Problem Symptoms Table Use the table below to help you find the cause of the problem. The numbers indicate the priority of the likely cause of the problem. Check each part in order. If necessary, replace these parts. Specificat