Hyundai Tucson: Manifold Absolute Pressure Sensor (MAPS)
Description
Manifold Absolute Pressure Sensor (MAPS) is a speed-density type sensor and is installed on the surge tank. It senses absolute pressure of the surge tank and transfers the analog signal proportional to the pressure to the ECM. By using this signal, the ECM calculates the intake air quantity and engine speed.
The MAPS consists of a piezo-electric element and a hybrid IC amplifying the element output signal.
The element is silicon diaphragm type and adapts pressure sensitive variable resistor effect of semiconductor.
Because 100% vacuum and the manifold pressure apply to both sides of the sensor respectively, this sensor can output analog signal by using the silicon variation proportional to pressure change.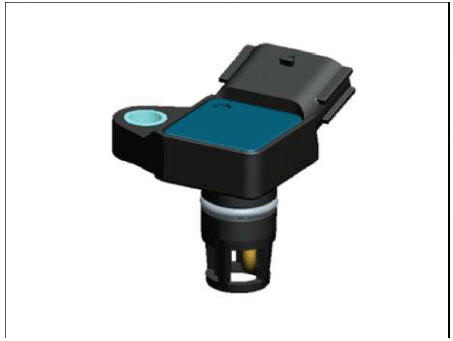 Specification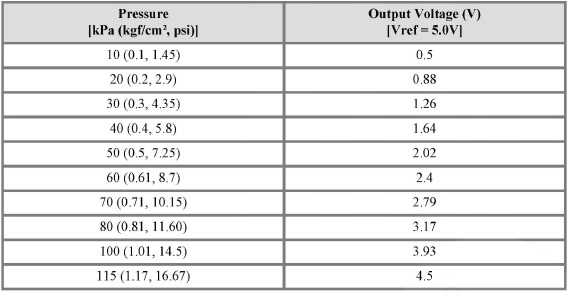 Circuit Diagram

Harness Connector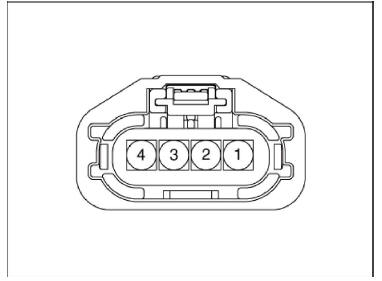 Inspection
Connect a diagnostic tool on Data Link Connector (DLC).
Check MAPS output voltage at idle and IG ON.

Removal
Turn ignition switch OFF and disconnect the battery negative (-) terminal.
Disconnect the manifold absolute pressure sensor connector (A).
Remove the manifold absolute pressure sensor (B) after loosening the bolt.
Tightening Torque : 9.8 - 11.8 N.m (1.0 - 1.2 kgf.m, 7.2 - 8.7 lb-ft)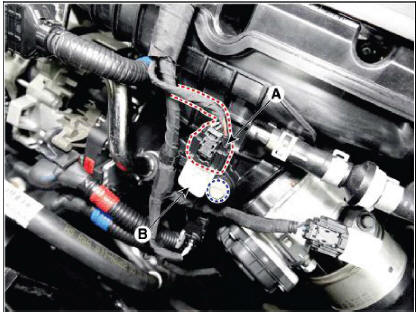 Installation
WARNING
Install the component with the specified torques.
Note that internal damage may occur when the component is dropped. In this case, use it after inspecting.
WARNING
Insert the sensor in the installation hole and be careful not to damage when installation.
Install in the reverse order of removal.
READ NEXT:
Description Intake Air Temperature Sensor (IATS) is included inside Manifold Absolute Pressure Sensor and detects the intake air temperature. To calculate precise air quantity, correction of the air temperature is needed because air density
Description The Engine Coolant Temperature Sensor (ECTS) is located in the cylinder block and cylinder head, and measures the temperature of the engine coolant. The thermistor of the cooling water temperature and resistance has a negative temp
Description Crankshaft Position Sensor (CKPS) detects the crankshaft position and is one of the most important sensors of the engine control system. If there is no CKPS signal input, fuel is not supplied.That is, vehicle can't run without
SEE MORE:
Driver Air Bag (DAB) DAB is installed in the steering wheel, and electrically connected to the SRSCM via clock spring. It is deployed during frontal impact to protect the driver. Clock Spring Clock spring delivers actuation signal, ge
Exterior lights Lighting control To operate the lights, turn the knob at the end of the control lever to one of the following positions: OFF position AUTO headlamp position Position lamp position Headlamp position Daytime Running