Hyundai Tucson: Exhaust Emission Control System - Description
Exhaust emissions (CO, HC, NOx) are controlled by a combination of engine modifications and the addition of special control components.
Modifications to the combustion chamber, intake manifold, camshaft and ignition system consist the basic control system.
These items have been integrated into a highly effective system which controls exhaust emissions while maintaining good drivability and fuel economy.
Description
The catalytic converter of the gasoline engine is a three way catalyst. It oxidizes carbon monoxide and hydrocarbons (HC), and separates oxygen from the oxides of nitrogen (NOx).
WCC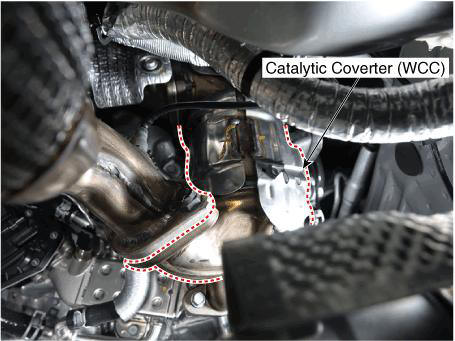 Removal and Installation
Catalytic Converter (WCC)
Remove the exhaust manifold.
(Refer to Engine Mechanical System - "Exhaust Manifold")
Installation
Install in the reverse order of removal.
Description
The Gasoline Particulate Filter (GPF) system prevents Particulate Matter (PM) from being discharged to the atmosphere and consists of a filter assembly, two Exhaust Gas Temperature Sensors (EGTS).
The filter is integrated in the catalytic converter assembly and has honeycomb cell structure which can filter the PM in the exhaust gas. While the exhaust gas passes the GPF, This gathered PM in GPF is called "soot".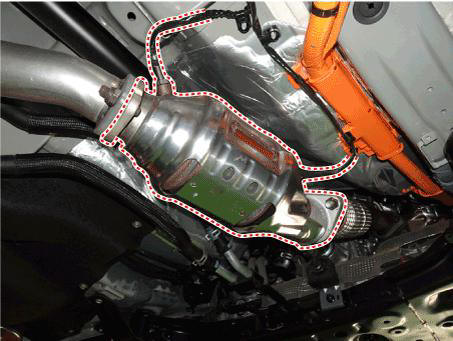 READ NEXT:
This procedures is to forcibly regenerate the GPF with scan tool when the GPF doesn't have been regenerated during driving. For example, if the vehicle has repeated "Low speed driving" or "Short distance driving", the GPF
Removal Turn the ignition switch OFF and disconnect the battery negative (-) cable. Lift up the vehicle. Remove the floor under cover front RH. Disconnect the Exhaust Gas Temperature Sensor (EGTS) Front (A) and Rear (B). Rem
Description Continuous Variable Valve Timing (CVVT) system advances or retards the valve timing of the intake and exhaust valve in accordance with the ECM control signal which is calculated by the engine speed and load. By controlling CVVT, th
SEE MORE:
Inspection Check the side clearance between piston and connecting rod. Using feeler gauge, measure the side clearance while moving the connecting rod back and forth. Side clearance Standard : 0.1 - 0.25 mm (0.0039 - 0.0098 in.) Maximum
Warning and control Lane Keeping Assist will help warn and control the vehicle with Lane Departure Warning and Lane Keeping Assist. Lane Departure Warning To warn the driver that the vehicle is departing from the projected lane in fro