Hyundai Tucson: Introduction
Foreword
Congratulations, and thank you for choosing HYUNDAI. We are pleased to welcome you to the growing number of discerning people who drive HYUNDAI. We are very proud of the advanced engineering and high-quality construction of each HYUNDAI we build.
Your Owner's Manual will introduce you to the features and operation of your new HYUNDAI. To become familiar with your new HYUNDAI, so that you can fully enjoy it, read this Owner's Manual carefully before driving your new vehicle.
This manual contains important safety information and instructions intended to familiarize you with your vehicle's controls and safety features so you can safely operate your vehicle.
This manual also contains information on maintenance designed to enhance safe operation of the vehicle. It is recommended that all service and maintenance on your car be performed by an authorized HYUNDAI dealer. An authorized HYUNDAI dealer are prepared to provide high-quality service, maintenance and any other assistance that may be required.
This Owner's Manual should be considered a permanent part of your vehicle, and should be kept in the vehicle so you can refer to it at any time. The manual should stay with the vehicle if you sell it to provide the next owner with important operating, safety and maintenance information.
HYUNDAI MOTOR AMERICA
CAUTION
Severe engine and transmission damage may result from the use of poor quality fuels and lubricants that do not meet HYUNDAI specifications. You must always use high quality fuels and lubricants that meet the specifications listed in the Vehicle Specifications section of the Owner's Manual.
Copyright 2021 HYUNDAI Motor America. All rights reserved. No part of this publication may be reproduced, stored in any retrieval system or transmitted in any form or by any means without the prior written permission of HYUNDAI Motor America.
Guide to Hyundai genuine parts
1. What are HYUNDAI Genuine Parts?
HYUNDAI Genuine Parts are the same parts used by HYUNDAI Motor Company to manufacture vehicles.
They are designed and tested for the optimum safety, performance, and reliability for our customers.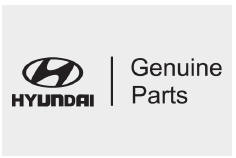 2. Why Hyundai Genuine Parts?
HYUNDAI Genuine Parts are engineered and built to meet rigid manufacturing requirements.
Damage caused by using imitation, counterfeit or used salvage parts is not covered under the HYUNDAI New Vehicle Limited Warranty or any other HYUNDAI warranty.
In addition, any damage to or failure of HYUNDAI Genuine Parts caused by the installation or failure of an imitation, counterfeit or used salvage part is not covered by any HYUNDAI Warranty.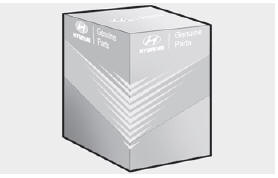 3. How can you tell if you are purchasing HYUNDAI Genuine Parts?
Look for the HYUNDAI Genuine Parts Logo on the package (see below).
HYUNDAI Genuine Parts exported to the U.S. are packaged with labels written only in English.
HYUNDAI Genuine Parts are only sold through authorized HYUNDAI Dealerships.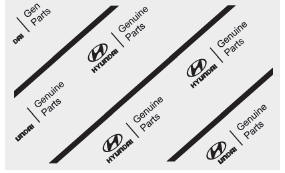 HOW TO USE THIS MANUAL
We want to help you get the greatest possible driving pleasure from your vehicle. Your Owner's Manual can assist you in many ways. To gain an overview of the contents of your Owner's Manual, use the Table of Contents in the front of the manual. The first page of each Chapter includes a detailed Table of Contents of the topics in that Chapter.
To quickly locate information about your vehicle, use the Index in the back of the manual. It is an alphabetical list of what is in this manual and the page number where it can be found.
For your convenience, we have incorporated tabs on the right-hand page edges.
These tabs are coded with the Chapter titles to assist you with navigating through the manual.
SAFETY MESSAGES
Your safety, and the safety of others, is very important. This Owner's Manual provides you with many safety precautions and operating procedures. This information alerts you to potential hazards that may hurt you or others, as well as damage to your vehicle.
Safety messages found on vehicle labels and in this manual describe these hazards and what to do to avoid or reduce the risks.
Warnings and instructions contained in this manual are for your safety. Failure to follow safety warnings and instructions can lead to serious injury or death.
Throughout this manual DANGER, WARNING, CAUTION, NOTICE and the SAFETY ALERT SYMBOL will be used.
This is the safety alert symbol. It is used to alert you to potential physical injury hazards. Obey all safety messages that follow this symbol to avoid possible injury or death. The safety alert symbol precedes the signal words DANGER, WARNING and CAUTION.
DANGER
DANGER indicates a hazardous situation which, if not avoided, will result in death or serious injury.
WARNING
WARNING indicates a hazardous situation which, if not avoided, could result in death or serious injury.
CAUTION
CAUTION indicates a hazardous situation which, if not avoided, could result in minor or moderate injury.
NOTICE
NOTICE indicates a situation which, if not avoided, could result in vehicle damage.
READ NEXT:
Gasoline engine Unleaded Your new vehicle is designed to use only unleaded fuel having an octane number ((R+M)/2) of 91 (Research Octane Number 95) or higher. (Do not use methanol blended fuels) Your new vehicle is designed to obtain maximum
By following a few simple precautions for the first 600 miles (1,000km) you may add to the performance, economy and life of your vehicle. Do not race the engine. While driving, keep your engine speed (RPM, or revolutions per minute) betwe
Exterior overview (I) Front view The actual shape may differ from the illustration Hood Headlamp Tires and wheels Side view mirror Panoramic sunroof Front windshield wiper blades Windows Front radar Ex
SEE MORE:
WARNING Check the glass run channel for damage or deterioration, and replace it if necessary. Remove the front door trim. (Refer to Front Door - "Front Door Trim") Lower the glass by operating the power window switch until the gl
Component Location Rear door outside handle Replacement Rear Door Outside Handle Assembly WARNING When removing with a flat-tip screwdriver or remover, wrap protective tape around the tools to prevent damage to components. Put